A star-studded outdoor exercise class has raised over £1000 for victims of the Manchester Arena bombing.
David Lloyd Trafford put on the bootcamp last weekend to raise money for The Red Cross' 'We Love Manchester' fund.
All donations will be used to support people injured or bereaved by the attack.
The tough HIIT session was taught by personal trainer Mark Hargreaves, 27, who originally had the day booked off to celebrate his birthday.
"I was the first one to volunteer," Mark told MM.
"Sport brings everyone together, and it's important to show we can stand up to this."
More than 50 people took the class, which is normally limited to only 25, among them some famous faces.
Emmerdale actor Anthony Quinlan said he was happy with how many people turned up.
"It's amazing, I don't think there's usually this many people in the HIIT classes.
"It was a tough class, but what he's put us through doesn't even compare.
"It's for a brilliant cause, and I just wanted to be a part of it and do my bit."
Sale Sharks star Denny Solomona said the class reflected the important role sport has in a community.
"I think everybody tries to be the better team, but at the end of the day we all win when everyone comes together and unites.
"It just shows how kind-hearted humans can be and I think that's the only way to break the cycle."
Solomona, who was applauded for offering up is home to those stranded by the attack, praised the city's response.
"Everyone around Manchester has come together well.
Great charity boot camp! #Manchester #welovemanchester #love RT @DennySolomona @AnthonyQuinny thanks for supporting! pic.twitter.com/SLGRNfVFJz

— DL Manchester (@DLLManchester) May 27, 2017
"Just being here helps a lot. The best medicine is getting out there and enjoying the sun on days like this."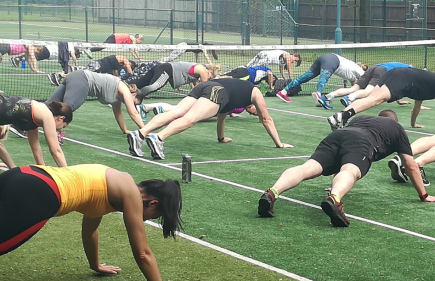 'HARD WORK': The group took part in a difficult HIIT workout
Club members came out in force to attend the session.
Joanna Chandramani, 38, told MM that she was still feeling the effects of the attack.
"I'm just devastated, it's broken my heart. I've not stopped crying all week.
"I'm too scared to go into Manchester, it's frightened me."
Wedding cake designer Caroline Black, 40, said she didn't expect something like this in Manchester.
"You do see other things that have happened in the world and it's really worrying, but this is so close to home.
"We all know someone that was there. You feel like you want to do something to help, and this is a way of doing it."
David Lloyd Trafford showed solidarity by opening their doors to emergency services staff the day after the attack.
The club also handed out worker bee stickers in support of the victims.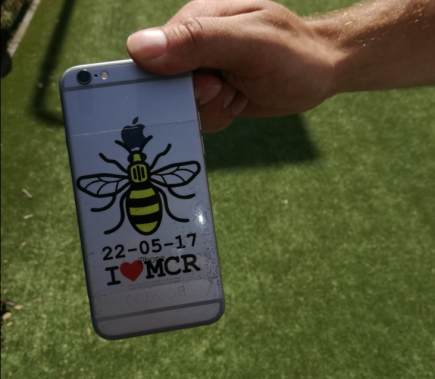 'IMPORTANT': Personal trainer Mark Hargreaves keeps the worker bee sticker on his phone
The worker bee began to be associated with Mancunians' hard work and productivity during the Industrial Revolution, and has been the symbol of the city since.
Following the attack it has become representative of unity against terrorism, appearing on banners and posters all over the city.
'The Manchester Tattoo Appeal' has also made use of the motif, with many people getting tattoos of bees show their support.
To donate to the We Love Manchester Fund, click here.