An Oldham dad-of-two who survived a severe brain injury is running 300 miles in 30 days to raise money for the staff who saved his life.
Tim Woodgreen, from Chadderton, was temporarily paralysed and had to learnt to walk again following four weeks in an induced coma.
Mr Woodgreen, a detective sergeant with Greater Manchester police, was in bed for three days with severe headaches when his wife, Samantha, called for an ambulance. 
Within half an hour of arriving at The Royal Oldham Hospital, Tim had several seizures – biting through his tongue and blocking his airway.
Staff put Mr Woodgreen into an induced coma, which he then remained in for four weeks.
While in the coma, doctors discovered Mr Woodgreen had a brain injury called cerebral venous sinus thrombosis (CVST) – a blood clot within the venous system in the brain.
This was a consequence of an unknown ear infection.
After the four week long coma, Tim was transferred to Salford Royal, run by Salford Care Organisation, and placed under the care of a specialist neurologist consultant and fitted with a tracheostomy so he could breathe. 
This treatment continued for another two weeks along with physiotherapy to help him walk again after being left temporarily paralysed in both legs from the condition, which he said was "scary at first". 
Now, more than a year after leaving hospital, Mr Woodgreen said: "I still have mobility issues. I'm often in pain and my left leg is still numb in places, spasms, locks and occasionally drags.
"Mentally it's been a big thing to overcome as it's something I have to deal with every day."
Tim has received regular support from an NHS physiotherapist who helped him get back on his feet and walking again since being home.
However, after everything he has overcome, he is now preparing to run 300 miles over 30 days, calling it the 300in30 challenge. 
This challenge is for Mr Woodgreen to say thank you to all of the staff as the Northern Care Alliance NHS Group, which brings together Oldham and Salford Care Organisations.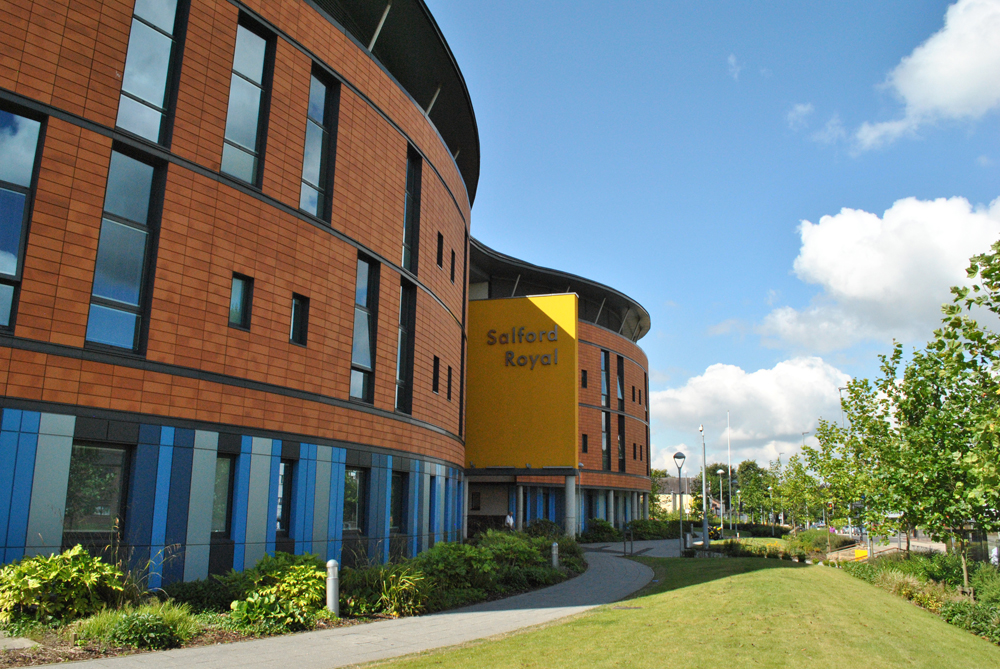 He said: "I want to show my appreciation to the staff that saved my life and for everything they are doing throughout the pandemic.
"At the end of the day, if it wasn't for them my kids wouldn't have a dad."
Mr Woodgreen aims to run as much of the 300 miles as he can, but his condition may mean he has to walk some parts. 
If the lockdown restrictions are still in place, he will run locally or combine the challenge with his daily commute to work as a key worker for Rochdale Police Station. 
Tim, who has already raised more than £3,000 via his JustGiving page, will be regularly supported by his wife Samantha, and their two children Isabelle, 13, and Noah, 5.
Dr Fernando Garcia Del Carrizo, neurology consultant at Manchester Centre for Clinical Neurosciences, based at Salford Royal, said: "His planned fundraiser to walk or run 300 miles is fantastic news and shows what great progress he has made since being in hospital."
We wish him all the best and thank him for fundraising to support our hospitals and community services across Oldham and Salford."
With the blood clot remaining on his brain, it has prevented Tim from playing contact sport and driving, and often leaves him needing time to rest after being in pain from mild exercise.
With this, Mr. Woodgreen has now encouraged anyone who experiences anything similar, to immediately seek medical advice.
#300in30
www.justgiving.com/crowdfunding/tim-greenwood300in30