Blood cancer is the fourth biggest cancer killer in the UK – yet only 1,200 people are signed up as blood stem cell donors in Manchester.
In a bid to boost these shocking statistics, leading cancer charity Delete Blood Cancer UK (DBCUK) have launched their 'What are you made of?' campaign in an effort to increase the number and diversity of blood stem cell donors in the region.
The drive focuses on the uniqueness of every individual, and how that breadth of diversity is vital for saving the lives of those diagnosed with blood cancer.
Director of Communications and Donor Relations at DCBUK, Deirdra Taylor, said: "By putting yourself on standby to donate some of your blood stem cells to another person, you could give them a second chance of life.
"If you register, and do match to a patient, you will possibly be found to be their only match."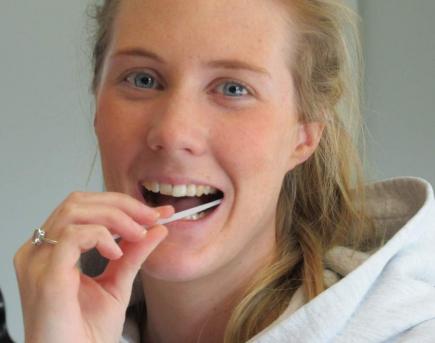 SWAB JOB: A quick and easy swab of your cheek will determine your tissue type and then register you as a donor
The disease affects the production and function of normal blood cells, which stops the body being able to fight off infections, as well as carrying out other lifesaving jobs.
Of the 25,000 people that are diagnosed with the cancer every year, less than half will find the donor that they need to survive.
With only one or two in the population sharing the same tissue-type, black and ethnic minority patients face a greater risk, because it is considerably more difficult to find a tissue match. 
A donation is a patient's only chance of survival.
Motivated by seeing the campaign on television, 23-year-old Mr Mears from Mildenhall, Suffolk, became a donor five months ago.
He has compared it to being as easy as giving blood, and is now actively involved in raising awareness for DCBUK, including dispelling some of the myths around donation.
"Spinal taps are a big myth, but there are lots of others so we need to get people talking about this openly and getting the facts straight," he said.
"It was a very humbling experience being able to give someone a second chance at life.
"I would move heaven and earth to find a suitable match for someone I cared about and it was only fair that I be willing to come forward for someone else.
"There were several contacts going through the whole sign-up and donation process, and if I had any questions or concerns, there was always someone on the end of the phone. 
"Anyone interested in donating should definitely consider it. You could be the only suitable match for someone in need of a transplant – there isn't necessarily someone else who can do it."
Most healthy people between the ages of 18 and 55 will be eligible to donate and can register online.
After that first step, you will be asked to check your tissue-type by completing a cheek swab test, which can be done at home. 
For more information go to www.deletebloodcancer.org.uk
Image courtesy of César Astudillo, with thanks