Greater Manchester's adults were among the most overweight in the North West during lockdown says the government.
Newly published figures show that 65.9 per cent of over 18s living in the North West were overweight or obese in 2020/21.
The figure was even higher in five of Greater Manchester's ten council areas.
In Wigan, a whopping 73.7 per cent of adult residents were classified as overweight or obese in 2020/21.
Other Greater Manchester areas above North West average were Oldham, Tameside, Rochdale and Salford.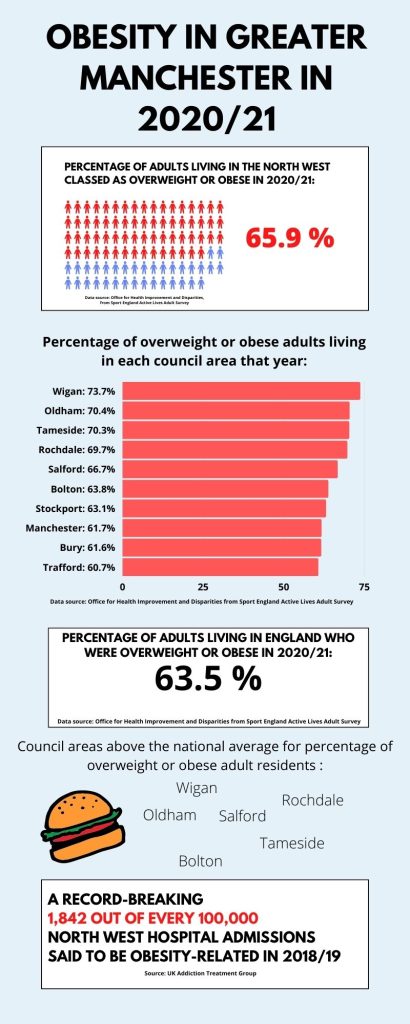 The annual figures were published recently by the Office for Health Improvement and Disparities (OHID).
The figures were based on data from Sport England's Active Lives Adult Survey.
The government's OHID website links obesity with poorer mental and physical health.
Risky and costly
Obesity is also linked with greater risk of developing type 2 diabetes, heart disease and liver cancer.
The OHID website states: "Tackling obesity is one of the greatest long-term health challenges currently faced in England."
According to UK Addiction Treatment Group (UKAT), overweight and obesity related conditions cost the NHS an astonishing £6.1 billion in the UK each year.  
Health checks
Lynne Calvert, Wigan Council's service manager for public health, said: "Before the pandemic, we were seeing a reduction in the number of adults locally who were overweight or obese.
"Unfortunately the pandemic did cause severe disruption to a number of our services, as we took necessary measures to keep people safe, and we are continuing to see the impact of this."
The council offers a range of support via its Be Well service including NHS specialist weight management support.
Lynne Calvert added: "We are proactively working to recover from the impact of the pandemic and building on lessons learnt in that time so we can deliver an effective and engaging weight management service.
"This includes our plan to take health checks out into the community rather than expecting people to always come to us, giving people the option to engage with us virtually as well as in person, and working through our leisure centres and in partnership with GPs and health colleagues.
'Not a choice'
Nuno Albuquerque, Consultant Treatment Lead at UKAT said that for some people eating and drinking too many calories has "no longer become a choice".
He added: "Unfortunately, the North West looks to be in an obesity health crisis, with rates of obesity rising steadily over the last few years. 
"Certain types of foods, like highly sugary foods, react with the brain's dopamine receptors to create feelings of pleasure.
"Once your brain becomes used to receiving excessive amounts of sugar, you might start to experience intense cravings, which can result in a food addiction.
"Like all behavioural addictions, food addiction is treatable with the right support as it's likely that the person will be suffering with an underlying psychological issue, like low self-esteem or as a result from trauma.
"We urge anyone suffering to simply ask for help."
Main photo by Towfiqu barbhuiya on Unsplash