It was a night of mixed fortunes for Labour in the Wigan Council elections as they maintained their council majority but had their total number of seats reduced.
Of the 25 seats up for election, exactly one third of the entire council, Labour held 23 of them before voting started.
After all the votes were counted Labour leader Lord Peter Smith found out his party had lost a further five seats bringing their total for this election in at 18.
In the closest run contest of the night the newly elected councillor for Standish with Langtree, Conservative Adam Marsh, overcame tough challenges from former Independent councillor Debbie Fairhurst and Labour's Deborah Parkinson to take the seat by just 15 votes.
Speaking after the result Mr Marsh said: "This vote was extremely close, and I think what it shows is that we all have to come together now for the benefit of Standish."
The Tories managed to inflict more damage onto their political rivals as they held onto the Orrell and Lowton East seats.
Orrell's new councillor Richard Clayton said: "Six-years-ago I wasn't in this sort of position, I hope I'll make a good councillor and get to work with past and present colleagues."
But the real thorn in Labour's side came from the independent candidates.
In Atherton Labour's Karen Aldred was displaced by Stuart Gerrard of the Independent Network whilst Janet Brown struck a close victory for the Shevington Independents following a re-count, in Shevington with Lower Ground to replace Michael Crosby as councillor.
Paul Maiden won the Hindley Green seat by almost two-hundred votes and after he was announced as the winner he thanked all involved but preferred to do his 'talking in the town hall'.
Lots of anxious people in room at the minute, none of the counts have been called and the milk for the coffee is almost empty, it could be a very long night indeed #MMElections2018 #LocalElection2018 pic.twitter.com/JSv9QkPrX7

— Mike Jones (@mdjones26) May 3, 2018
The final loss Labour suffered came in the Bryn Ward as Andrew Collinson, another Independent, gained victory by less than one-hundred votes.
"I am delighted to have won this election for the people of Bryn, I feel honoured and privileged." Said Mr Collinson, "I'll do my very best to represent [them] and [their] views in the council chamber and for those who didn't vote for me I'd like hope that next time I can earn both your trust and your vote."
Yet it wasn't all doom and gloom for Labour as council leader Peter Smith easily held onto his seat of Leigh West and Anthony Sykes was elected councillor of Ashton for the first time.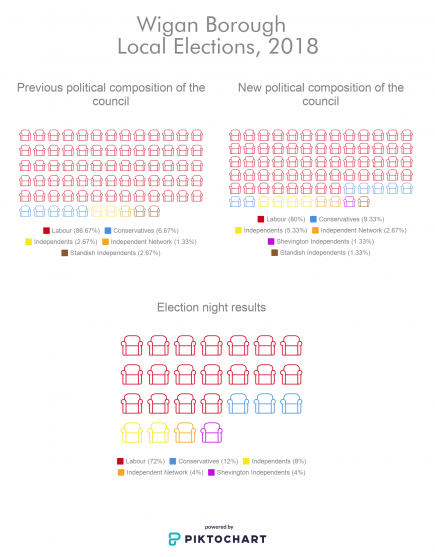 Speaking after his victory Mr Sykes said "Obviously, I'm delighted the majority voted for me, it is an honour, a privilege, and I'm humbled.
"It is 100 years since the Suffragettes won the vote for women and working-class people so on behalf of all the candidates, to the 27% who turned out, thank you for being bothered to assert your diplomatic right."
Despite the losses Labour still hold a massive 60 of the 75 wards, with the Conservatives having seven, Independents four, the Independent Network two and the Standish and Shevington Independents one each.