The founder of lifestyle website Manchester Confidential is defiant in the face of a Twitter troll vilifying the site's editorial policy.
Mark Garner, known by many as food writer Gordo, retaliated to the 'hateful' Twitter account by saying those who created it are 'merely jealous'.
The mystery user behind the account @McrCuntfidentia, a parody of the online Manchester lifestyle magazine, is biting towards a number of the website's other writers, along with nationally-acclaimed professional foodies.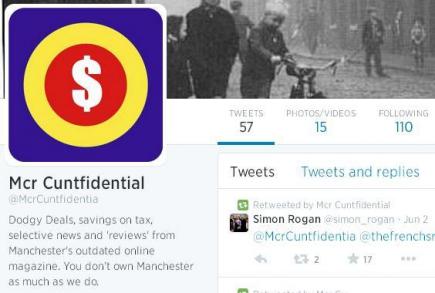 The @McrCuntfidentia disparaging Twitter comments refer to the likes of Guardian Weekend restaurant critic Marina O'Loughlin and Michelin-starred chefs Simon Rogan and Aiden Byrne.
It also includes references to Gordo running a business while he was undischarged bankrupt, something which is a criminal offence, allegations of dodgy deals and trying to cut corners with reviews.
Gordo told MM: "People will only attack things because they are jealous – Manchester Confidential invites highly personal attacks. At my age it's like water off a duck's back."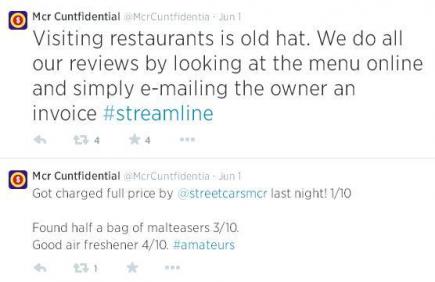 Gordo said that it was merely due to time constraints that the account, which has 448 followers, hasn't already been reported.
He explained: "We know who's running the account but we won't reveal who as I think that adds fuel to the fire.
"We would normally close accounts like that down immediately, the only reason I haven't is because I'm so busy.
"The girl who looks after social media is away but I've put a note on her desk to ask her to have it removed when she's back."
The account sprung up on May 31, only days after a Twitter row erupted between Gordo and a Manchester food blogger questioning the site's editorial policy.
The blogger queried which food reviews were published following advertising deals and which were independent.
Following a volley of tweets, Manchester Confidential updated its review policy promising to state that any promotional article would be signposted as such.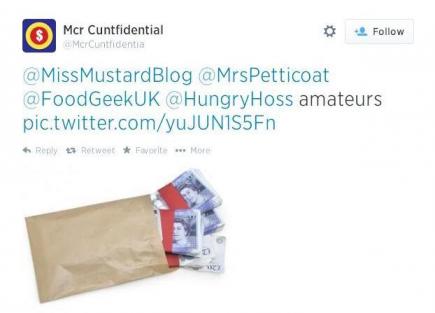 However one Manchester food blogger called James* told MM that he feels the 'vitriolic' account represents a wider attack on food writers across the area.
Manchester's food bloggers were victim of parody accounts including Manchester Blaggerz and Boring Foodie recently, both of which have since been deactivated. 
A PR stunt in August last year saw food writers and bloggers served supermarket pizza in a restaurant, with some failing to spot the trick.
The stunt caused a backlash from the city's bloggers, many of whom voiced their anger at being deceived. Meanwhile others took to social media to laugh at those who had fallen for the prank.
Kenna of @K30nna said at the time: "About time foodie bloggers/blaggers/wankers were shown they don't have a clue what they're on about."
Manchester food blogger James said: "The internet and the anonymity it brings has allowed people to become increasingly nasty online.
"It really does make me question whether it's worth being a blogger at times. Most really enjoy our writing and appreciate it for what it is, but you get the odd nasty characters who likes to vent their jealousy in the form of mockery. 
"To be fair, it's probably the same thing here with the Manchester Confidential parody account, just some jealous idiot who doesn't like seeing someone do well from writing. Though it is particularly spiteful on this account."
A Greater Manchester Police spokesman said that anyone concerned with the content of a Twitter account should go to the social media giant.
He said: "The first port of call would be Twitter so the account can be closed. If anyone makes an allegation of criminal content we would then look into it."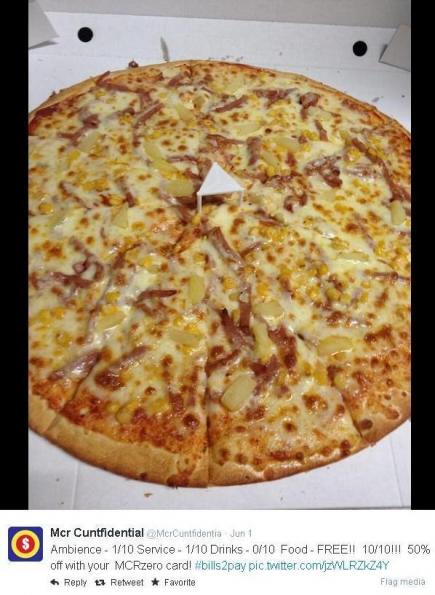 Manchester Confidential Editor Jonathan Schofield said: "Satire's supposed to be funny and sharp. Not a repeated bludgeoning by an inaccurate sledgehammer. Loses its value."
Reaction from other bloggers on social media was mixed.
FoodGeekUK said: "@McrCuntfidentia is unfortunately more obvious that [sic] it should really have been."
DineInOut, a dining club claiming to be 'for serious foodies' in Manchester and North Cheshire, were supportive of the account.
"Loving your tweets. About time that toad got a dose of his own medicine," they said.
Twitter has published clear guidelines on what constitutes an acceptable parody account including that the avatar not being exact logo of the account subject and the account name should not be the exact name of the account subject without a distinguishing word such as 'not', 'fake', or 'fan'.
The bio should also include a statement to distinguish it from the real account signposting it with phrasing such as 'this is a parody account' or 'this is not affiliated with…'.
A Twitter spokesman said: "Twitter provides a platform for its users to share and receive a wide range of ideas and content, and we greatly value and respect our users' right to expression.
"Our users are solely responsible for the content they publish and are often in the best position to resolve disputes amongst themselves.
"Because of these principles, we do not actively monitor users' content, and we do not edit or remove user content except in response to a Terms of Service or valid legal process."
*Name changed on request of the source
Image courtesy of Huddled NW via YouTube, with thanks