Thousands of protesters marched through Manchester to protest the arrival of the annual Conservative Party Conference set to start on Monday.
A wide array of voices, from CND to UNISON, came out on Manchester's streets to remind the conference goers bused in from Westminster that conservative politics are not welcome here.
Prime Minister Boris Johnson will wade into Manchester under the slogan of 'Build Back Better', which is new political shorthand for improving social care, tackling crime and rebuilding post-COVID.
This will be another opportunity for Johnson to convince his newly adopted northern voters of his 'levelling up' rhetoric when he speaks in Manchester, one of the North's biggest cities.  
However the voices of those protesting through the streets made clear these slogans are just that.
One UNISON protestor said: "UNISON are opposed to the austerity attacks by the government on working people, particularly on social care. Care workers have been on the frontline in the struggle against COVID. No PPE, no sick pay for self-isolation and now they're being walloped with another National Insurance rise, which is supposedly going to end the social care crisis but actually it's just another real terms pay cut for social care workers.
"We're here to tell the government that it's unacceptable. Workers need proper rights, proper pay and services like social care need to be delivered by the public sector to protect pay and conditions.
"We've got to take action now and call on local councils to improve standards and deliver where the conservative government refuses to."
Edward Burrows, North West Regional secretary for the Fire Brigades Union said: "With the agenda of the Tory party, what they're doing across the country is pretty much destroying it, attacking the workers' rights from protesting to pay conditions and we've got to make a stand and we'll do that at every opportunity we can.
"At the moment the Fire Brigades Union are waiting on a white paper which could force changes to conditions which will absolutely decimate collective bargaining for the FBU and possibly even ban our right to strike which is the right of every worker."
Conservative Party hierarchy, chiefs and limpets arrive in Manchester for the conference against a backdrop of ongoing anger and dismay at their handling of the coronavirus pandemic.
The end of the £20 weekly increase in Universal Credit payments, a lifeline for thousands, is set to end the same day as Boris Johnson is to be greeted with universal adoration by audience members to his keynote speech on Wednesday.
One young protestor lamented today: "They (the Government) know how much people are depending on Universal Credit. But they turn a blind eye to it, all for the sake of economic growth and it's completely unsustainable.  
"They don't listen to any kind of ethical or moral argument. Individual ministers are unaccountable and our Prime Minister is unaccountable. Yet somehow, we've elected this bunch of greedy, ultra-capitalistic wankers."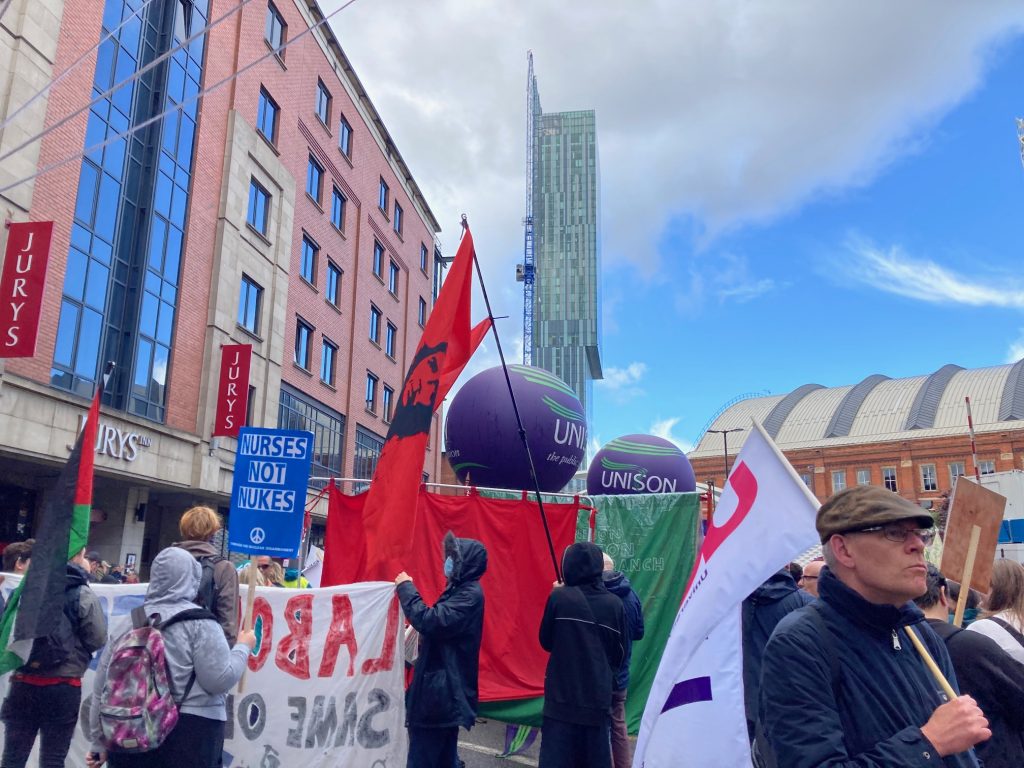 One ex-union protestor said: "I want to join everybody else's voice in making it clear that there's a large number of people in the country not happy with the way things are happening.
"There's the general issue of competence of the government as well and the way the pandemic is being handled, the way contracts are dished out, the way top jobs are handed out to friends of the government, and I think it's corrupt.
"It's potentially a long time until the next election so if we don't show that were still here and still not happy, there's a temptation to think 'well everything's ok the people are happy.' We're not happy and we need to keep saying so", he added.