Businesses across the North West are set to boom as Virgin Atlantic launch direct flights between Manchester and San Francisco.
The airline giant has announced that they will be pioneering the Man-Fran craze with tri-weekly flights commencing on March 28.
And industry experts have predicted that the new links will bring about big boosts for the technology sector in Manchester.
Director of tourism at Manchester Marketing, Nick Brooks-Sykes, said: "The USA is one of our most important markets, and with San Francisco's strengths aligning so well with Manchester's we look forward to welcoming a host of new business and leisure visitors to our wonderful city."
The Man-Fran trend is hoping to following in the footsteps of London's link with New York, which brought about the NY-Lon super commuting phenomenon a decade ago.
Sir Cary Cooper, from Alliance Manchester Business School, said: "The idea of NY-Lon has been around for a while.
"There are more direct flights daily between London and New York than trains from Kings Cross to Edinburgh.
"With Manchester's tech and creative industries booming, I fully expect direct flights between the city and San Francisco to catalyse something similar.
"Man-Fran will become a real trend over the next few years."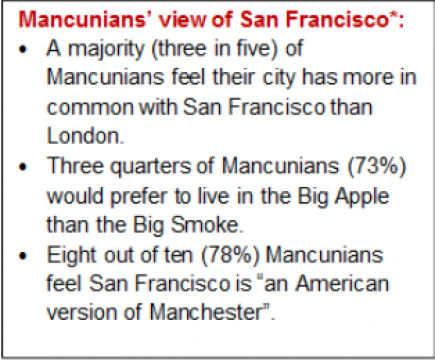 Local businesses have agreed that the connection will provide hugely positive impacts for their companies and their employees.
Entrepreneur Michelle Hua, who launched Made with Glove, said: "My business is based in Manchester, but as my technical team is over in San Francisco, I have to spend a lot of time travelling between the two cities.
"Previously travelling has taken up a lot of time with changeovers: however the direct flights from Manchester to San Francisco allow me to use my time more efficiently to re-invest into my business."
Managing partner of GP Bullhound, Alec Dafferner , who has offices in both cities, added: "The new San Francisco bridge to Manchester will help open the golden gate opportunity to companies in the Northern UK, truly putting Manchester on the map as an important and thriving global hub for west coast businesses."
It is also hoped that the Man-Fran trend will bring about great changes to the cultural scene of both cities.
Mark Fletcher, chief executive at Manchester Pride, said: "It's fantastic that Manchester has forged a direct link with the City of San Francisco, a place that shares many similar values.
"Our Manchester Pride Festival is the biggest of its kind in Europe and San Francisco Pride is the largest in the USA.
"Having never been, I'm already planning my first trip direct from Manchester and I'd encourage others to do the same."