More than 380 schools were fully or partially closed in Manchester today as National Union of Teachers (NUT) members held a strike on their first national day of action since 2014.
Thousands of pupils were affected as teachers across the country didn't go to work while those in Manchester marched from All Saints Park to Piccadilly Gardens in protest of pay and conditions.
A Tameside primary school teacher, who wished to remain anonymous, said they work from 7:30am until 5:30pm with no break before going home and continuing late into the evening.
They said: "I'm striking in short for myself because of the working conditions but it's also for the children because my day does have an impact on my teaching.
"I can feel myself having less patience than I normally would because I'm so tired."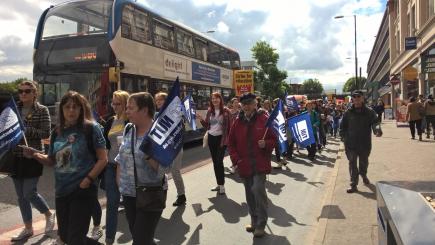 ON THE MARCH: Teachers protesting today over pay and standards
They pointed to the pressure to hold constant tests and assessments and to meet targets because 'we have to get so many children to a certain level otherwise we won't get a pay rise'.
The teacher said 'what was a Year 6 expectation two years ago is now a Year 4 expectation' which stifles creative lesson plans and means 'children are seen as just a number on a sheet'.
They said: "The annoying thing with this strike is that none of the other unions are striking, so it's divided the schools a lot.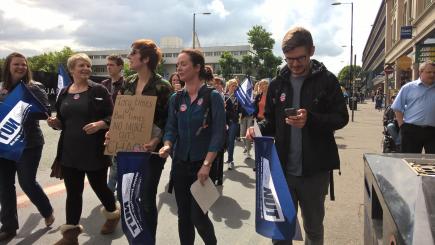 ANGER: Teachers voted overwhelmingly for strike action in an NUT ballot
"For families it's causing chaos, which obviously is the aim of the strike. But that's not why we're doing it – I just want to make a stand to the government that this isn't on."
The NUT held a ballot which received a 91.7% vote in favour of action, though it had just a 24.5% turnout across the country.
A Department for Education spokesperson said: "It is disappointing that they have chosen to continue with this unnecessary and damaging strike, which less than a quarter of its members voted for, despite our on-going commitment to formal talks addressing their concerns.
"Industrial action causes disruption to children's education, to their parents who have to take time out of work to arrange childcare and also damages the reputation of the profession."