Everyone in Manchester who 'gives a spit' about blood cancer is being urged to head down to The Printworks to help those suffering from these often terminal illnesses.
But it's not blood, sweat, tears, or money needed to further this fight, but saliva – there has never been an easier way to donate to charity!
The Anthony Nolan Trust, a leading blood cancer charity, is asking you to head down to Printworks' Pump Yard and spit in a test tube as part of the Match4Martin campaign.
Every 20 minutes, someone in the UK is diagnosed with blood cancer and for many a bone marrow or blood stem cell transplant is their only chance of survival.
By providing a small saliva sample you can see if you are eligible to donate bone marrow to another and give a lifesaving transplant.
Fred Booth, Centre Director at The Printworks said: "The process of joining the Anthony Nolan register is so simple.
"And we are hoping to recruit as many people as possible to try and find more matches for those suffering with blood cancers."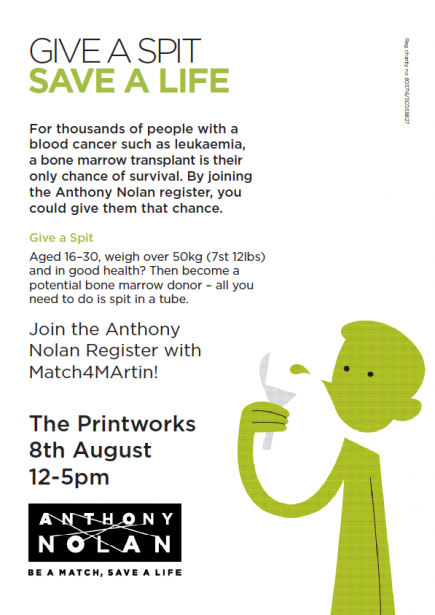 GIVE A SPIT: Every 20 minutes someone is diagnosed with blood cancer in the UK
The Printworks, located in Exchange Square in Manchester City Centre, is supporting Match4Martin, an awareness campaign for those suffering with blood cancers such as leukaemia.
If you are aged between 16 and 30, weigh over 50kg (7st 12lbs) and are in good health, you could be eligible as a match.
Simply visit the Match4Martin stand in The Printworks Pump Yard on Saturday August 8, any time between 12pm and 5pm.
All you have to do is spit in to a test tube to join the Anthony Nolan register as a potential bone marrow donor.
Around 30,000 people, from babies to grandparents, are diagnosed with blood cancer every year in the UK and you now have the power to save one of them.
Mr Booth said: "There are at least 360,000 individuals waiting for a match worldwide, with only one in 1,000 chance of finding a match.
"This figure reduces even further if you are from an Afro Caribbean, Asian or other ethnic minority group, as the register has a shortage of people from these minorities.
"We urge ethnic minority groups in particular to come along and 'Give a Spit' to save a life, but the more people we can recruit, the better our chances of saving lives."
For such a great cause there is no excuse not to participate in this hassle-free donation.
For more information about the registration and donation process, click here. 
Main image courtesy of NCVO London, with thanks.