Singer Charlotte Church added her voice to the tens of thousands protesting across Manchester yesterday against the austerity measures introduced by the Conservative government.
The rally, at the Castlefield Arena, marked the beginning of this week's anti-Tory protest events set up by the group to counteract the Conservatives holding conference held in the city.
The popstar has become progressively more outspoken with her views since getting involved with Labour's pre-election campaigns, and described people's rights as being 'stripped away by the government'.
She said: "This is not a radical fringe group but a radical movement.
"Our democracy is under threat from all sides.
"They can scare people into thinking one way but we can educate them to think another."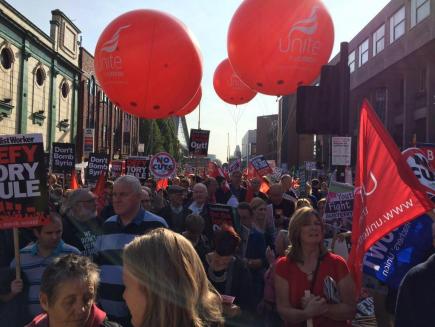 DEFY TORY RULE: Nearly 100,000 people attended the protests on Sunday
The mother and musician described the way in which the organisations were tackling the event and their protestations against the Tory government entering the city.
She said: "We are out in the open, celebrating our movement with music, dance and comedy.
"We will fight back."
Leader of the Green Party Natalie Bennett also made her views crystal clear on the present government and their policies.
The politician called for 'free trade unions' and an 'end to benefits sanctions' before clearly stating her stance on the fracking debate with a very definite 'NO'.
She said: "People power; we are the many and they are the few.
"We need a different government.
"The government are out for the 1% but the people are standing up.
"The fact is we need real change, change is coming, the election of Jeremy Corbyn is just the first sign."
"This is just the start."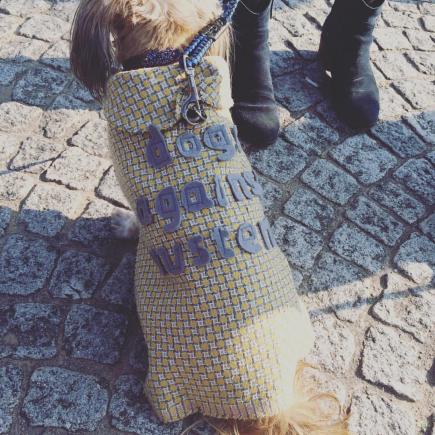 DOGS AGAINST AUSTERITY: Even the animals have lost faith in David Cameron
Steve Sweeney from the Morning Star announced that the newspaper is 'proud to be on side with Jeremy Corbyn'.
"We must stand united," he said.
"We can't wait five years. We must build a movement to bring the Tories down."
The editor described the day's peaceful event as a show of solidarity and declared 'socialism is back in the mainstream' – although he warned that there would be further 'battles ahead'.
He said: "Today has been a real show of strength from Labour and the progressive movement."
Anita Wright, secretary for the National Assembly of Women, outlined the issues of zero hour contracts, claiming that women are 'struggling to feed the family' and that the 'government are trying to destroy' the trade union movement.
She said: "Women are suffering from precarious contracts.
"We know austerity is unnecessary.
"We are standing up. We are fighting back."