Disability rights activists joined tens of thousands of protestors against the Conservative Party Conference, saying the government see disabled people as a 'soft target' for cuts.
Greater Manchester Coalition of Disabled People joined over 60 thousand demonstrators in marching through Manchester City Centre in opposition to the government's austerity programme.
The protest comes with Conservative delegates and MPs gathering in Manchester for the conference, with David Cameron set to deliver his conference speech today.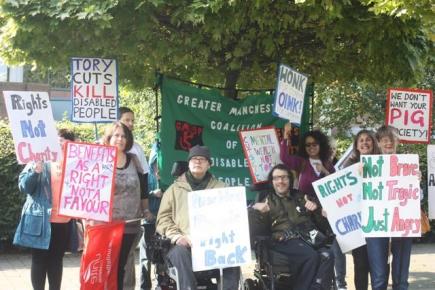 COALITION OF DISABLED PEOPLE: Protestors rallying for their rights
Brian Hilton, a disabled person living in Manchester and GMCDP Campaigns Officer, hit out at the government, saying they care more about 'tax-cuts for middle-income earners' than helping those with disabilities.
Speaking to MM, he said: "I think we're a soft target, we haven't got a voice and we haven't got any power and we haven't got any control.
"On one hand they're saying that they're trying to get disabled people off benefits and into work.
"On the other hand they're actually cutting the support that's available for disabled people in employment."
"The government's very slow on releasing figures on the amount of disabled people that have died as a result of being found 'fit to work', but out estimates are in the thousands."

PROTESTORS UNITE: Disabled group rally against austerity
Mr Hilton added that GMCDP protested because the government 'did not care' about disabled people, saying the government were 'slowly eroding what rights they had fought so hard to achieve'.
"One of the things they're doing is capping the amount of support that disabled people can get through the access to work scheme," he said.
"The whole idea is that that support enables disabled people to actually seek employment, and actually stay employed.
"So if they need some assistance with equipment, or a support worker to do some aspect of their job, that money is provided by the government. But they've now capped that money."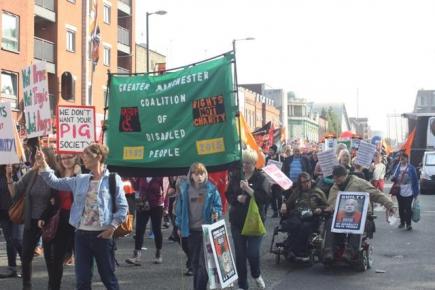 ON THE STREETS: Diabled group feel that their rights are being 'slowly eroded'
The Conservative Party protest comes after Coronation Street actress Cherylee Houston spoke out against the cuts during the Labour Party Conference. She said: "Disabled people are being attacked from all sides.
"There's a loss of freedom, loss of potential and loss of independence. Please don't let our generation be the one who smashed everything that we fought so hard to achieve."
Disability activists have pointed to the bedroom tax, the closure of the Independent Living Fund and the capping of the Access to Work programme, as proof that cuts have disproportionately affected them.
Disabled People against Cuts (DPAC) spokesperson Debbie Jolly said: "Austerity kills and the government is responsible for the misery being heaped upon disabled people by these cuts and for deaths they cause."
Image courtesy of George Robbins, with thanks.