Manchester will boast a night of street music and party atmosphere as Night & Day Cafe opens its doors to raise money for a children's charity.
Fundraisers Retrak will be running an event at the cafe to raise money in aid of homeless children in Africa.
The event, which will be a collection of the best street buskers across the North West, will be held on April 10 at the iconic venue for what promises to be a night of good music and good will.
Retrak is hoping that by bringing music to the streets of Manchester they'll be able to raise awareness about the bleak situation occurring on the streets of Africa.
"Hundreds of thousands sleep alone, cold, hungry and afraid but these events help them to know that they are not alone, whilst enabling us to raise funds for our work," said Kathleen Sheridan, spokeswoman from Retrak.
"Night & Day Cafe is being incredibly generous with their support so all of the money raised from ticket sales will be going straight to save the lives of children in Africa, and help them return home."
Retrak was founded in 1994 in Uganda as a football club which provided street children with the chance to escape from their day-to-day problems for a brief period of time.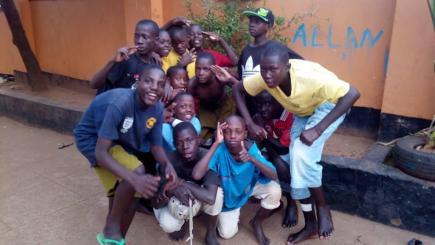 MAKING A DIFFERENCE: Retrak has helped thousands of children
Recognising both the need and potential, Retrak expanded the scope of its work beyond football and by 1997 had become a UK charity.
Since then, it has continued to grow and transform highly vulnerable children's lives for the better.
The charity has a good relationship with Greater Manchester Police and it was through this partnership that the idea for the event came about.
Last year, PC Sarah Pickstone from GMP collaborated with 16 other members of the police and fire service who managed to raise £2000 to fund a volunteer trip to Ethiopia.
Once there, volunteers worked alongside Retrak helping to save the lives of African street children.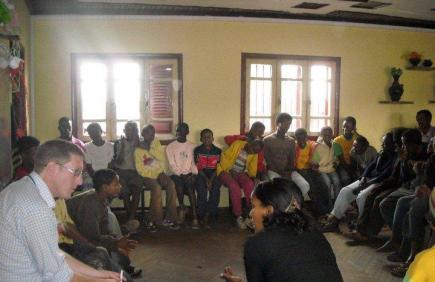 HERE TO HELP: Drop in centre
"People kept asking me 'If you've done good in another country, what good are you doing over here?' Which is when I came up with the idea for the Busk Off," said PC Pickstone.
"I thought that a night of entertainment in a great Mancunian music venue, showcasing the talent of the cities street performers whilst raising money for the charity would be something that could benefit everyone."
The event will hopefully be the first of many combining music from the street with helping children living on them.
Images courtesy of Retrak charity, with thanks