A terminally ill Manchester mother is having her bucket list made a reality thanks to her best friend, who will be shaving her hair off for charity later this month.
Tracy Donaghy, 40, has volunteered to have her golden locks removed after her friend of more than 20 years, Becca Parkes, was diagnosed with terminal lung cancer.
On having her hair trimmed down to a number one cut at Stretford Mall, Tracy said: "At the moment I've got my hair shoulder length and it's bright yellow after I had it specially dyed for my recent birthday.
"But I'm not worried about having nearly all of it cut off because after all it's only hair and it will always grow back.
"I've had special permission from our area manager to do it and we'll be setting up a makeshift barber's chair in the middle of the store for me to sit in.
"We'll try to make a real occasion of it by having balloons and posters up around the place and we'll also have a couple of buckets for people to make cash donations."
Becca, 36, from Stretford, was diagnosed with lung cancer in 2012 and underwent an operation to remove two-thirds of one of her lungs.
She hopes that the funds raised will be allow her to tick another item off her bucket list and take her daughter Ambur, 15, to Florida.
Becca said of her friend's grand gesture: "She's just brilliant.
"I couldn't believe it when she told me she was going to have all her hair shaved off to raise some money.
"I've lost all mine twice through chemo but that's something different."
Despite the thought of having her hair cut to less than a cm in length, Tracy feels that it will be worth it to see her friend jet off to the states.
"Becca is just an amazing person and puts everyone else before herself," she said.
"She's also like a second mother to my own daughter, Keren, who is also 15, and I so much want to make the Florida trip happen.
"I can't wait for the day to arrive if it means I'll be raising money for such a great cause as helping to make my friend and her daughter a little happier."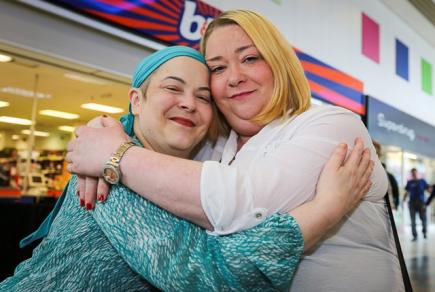 CLOSE FRIENDS: Becca and Tracy have known each other for more than 20 years
Becca underwent intense chemotherapy following her diagnosis, and at one stage she was given the all clear before being given the heart-breaking news.
"I was going back for tests every couple of months but last February the doctors told me the cancer had returned and spread to my other lung," Becca recalls.
"I've had a second round of chemo but I've been told this is just containing the cancer and that nothing can cure me now.
"Since I heard this I've just been living day by day, which is why I drew up my bucket list of things I want to do before I get too bad."
Becca has included seeing the Eagles play live at the 02 to her list, which she will be able to tick off after it has been arranged through friends of her brother.
She has suffered from multiple sclerosis for the last five years meaning she requires the use of a wheelchair, but will be getting a new one thanks to some of the money raised.
The sponsored head shave will take place in Stretford Mall on Friday June 13 at 2pm.
Images via Ceidiog, with thanks