Cyclists from across the UK will soon be pedalling the 220-mile journey from Manchester to London in just one day to raise £250,000 in aid of autism.
The event, organised by bike clothing and accessory outlet Rapha, will see cycling enthusiasts depart from Manchester Velodrome on Sunday September 7 and attempt to reach London's Olympic Park before midnight.
The riders will brave the British weather and constant ups and downs of the road as they try to raise money for Ambitious about Autism.
Kati Jagger, 28, who works at Rapha, will be one 300 riders taking part on Sunday and said: "I have done long rides before but this is the furthest I have ever cycled. I'm not even sure if I will make it."
"To cycle 220miles is a long way and it's daunting to say the least. Hopefully I will get to the 120-mile mark and then just keep on going after that."
The ride, which will require cyclists to cover an average of just over 12miles per hour, has been set up in order to support Ambitious about Autism.
Founded in 1997 as Treehouse, the charity works with young people suffering from autism and their families ensuring they receive the specialist education and support they need.
Rapha became involved in supporting Ambitious about Autism when Oscar, now 19, the eldest son of CEO Simon Mottram, was diagnosed with a severe form of autism as a young child.
Oscar has just left Treehouse School, which provides a ratio of two teachers to each student, which is directly funded by Ambitious about Autism.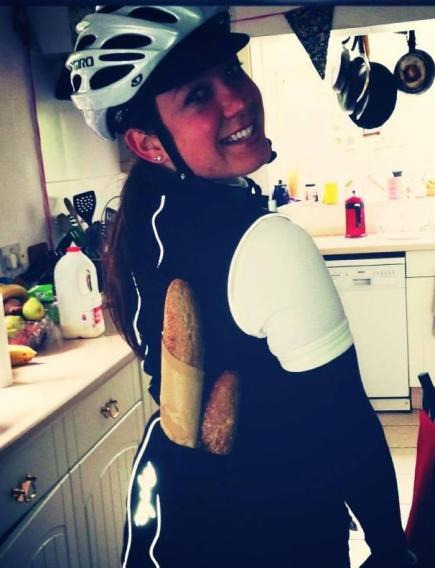 BIKE-GETTE: Kati is one of 300 riders taking part in the ride
And it is hoped that a new college will be opened in the near future in order to allow him to continue his education.
Paul Rance, 40, Floor Lead and Ride Leader at Rapha in Manchester said: "My son Joseph is four and it is probable that he will soon be diagnosed with high-functioning autism.
"Ambitious about Autism is a great cause because these charities really are doing great work, and it is so important that they are not overlooked."
Kati agreed and added: "Simon will be cycling on Sunday, and it is great to have this opportunity to be able to support Simon and Ambitious about Autism.
"My cousin also suffers from autism so I have seen first-hand how difficult it can be, particularly for my aunt and uncle and the amount of time they have to put in to caring for my cousin.
"Everyone who works at Rapha loves cycling, for us it is a way of life, so to be able to combine our passion with such a great cause is fantastic.
"It is the perfect way to show our support and hopefully the ride will be a huge success."
For more information about Treehouse and other work done by Ambitious about Autism, click here.
Images courtesy of Facebook, with thanks