Bolton West MP Julie Hilling is backing the British Heart Foundation's (BHF) push to make it compulsory for children to learn life-saving skills in school.
The BHF's Nation of Lifesavers campaign, which launched on March 16 2014, strives to ensure that all secondary school children are taught how to save a life with CPR and Public Access Defibrillator awareness.
Ms Hilling, who has been campaigning with the foundation for four years, told MM: "I can't imagine anything worse than seeing a loved one collapse in front of me and not knowing what to do and then finding out if only I'd known I could have saved them.
"We could save up to 200,000 lives a year if only people knew what to do if somebody collapsed or had an accident.
"The vast majority of teachers and parents think that it should be compulsory to learn how to save a life.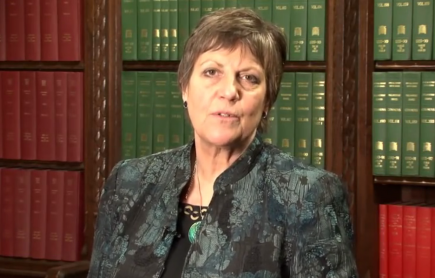 HOW TO SAVE A LIFE: Julie Hilling believes in creating a nation of lifesavers (courtesy of Lindsey Kell, via YouTube, with thanks)
"I think we've got to keep pressure on the government and on Labour to say that this should be a compulsory part.
"Just imagine if we had a world where everybody could save a life."
According to the BHF, over 30,000 cardiac arrests happen out of hospital every year and less than one in ten people survive.
They are on a mission to create a nation of lifesavers within five years and help more people survive an out of hospital cardiac arrest.
It was March 2012 during an FA cup game when ex Bolton Wanderers player Fabrice Muamba suffered a cardiac arrest on the pitch – an incident which was later used in a BHF advert.
Talking after the event which ended his career, Muamba said: "When it happened, the right people were there for me… I had the right people there to help… If it happened to me in my house I don't think we would be having this conversation."
But it is the lifesavers who are the stars of this campaign.
A foundation spokesman said: "We haven't used celebrity ambassadors for this campaign because we've been focusing on the case studies of people who have used CPR and life-saving skills to save people's lives."
It is those heroes who inspired Ms Hilling to fight for that life-saving training to become mandatory.
She said: "The inspirational stories of people that have saved lives have made me believe that this is so essential.
"It is an option for schools. It isn't part of the national curriculum so what we really need is for it to be part of the national curriculum so that every school leaver becomes a life saver."
Main image courtesy of Greg Clarke, with thanks.