A wheelchair-bound Brittle Bone Disease sufferer and children's charity ambassador has teamed up with Manchester's Hilton hotel to raise money for disadvantaged children.
Rebecca Wood, 27, from Cannock in Stafford, has been a Young Ambassador at Variety, the Children's Charity since October 2013.
Becky has been wheelchair-bound since she was a small child due to Brittle Bone Disease, a rare condition that means even the smallest knock can cause severe injury.
Despite breaking more than 250 bones, including ribs, arms, legs and her skull, Becky continues to raise thousands of pounds for Variety by hosting charity auctions.
Becky told MM that her role as an ambassador for Variety, the Children's Charity, helped her overcome various challenges in her every-day life.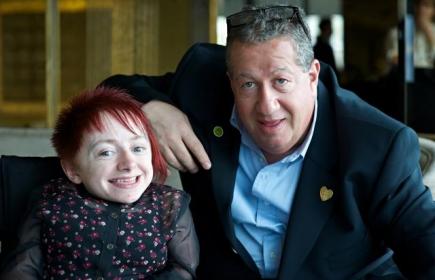 ALL SMILES: Becky with Variety Trustee Laurence Davis
 
Becky said: "My independence day was in 1997. It really felt like I had been set free. I am so thankful to Variety as they gifted me a wheelchair that was adapted to my needs and allowed me even to things like reach high shelves and do the washing up.
"I am so thankful to Variety as I would still be sitting in the shadows, I couldn't have done anywhere near as much without that wheel chair.
"It made a huge difference to my life as my confidence grew and I learnt how to do things like drive a car and live on my own."
To raise money for the charity, Manchester's iconic Hilton hotel has paired up with Variety which provides a wide range of services and equipment for sick, disabled or disadvantaged children.
Over the course of the year the Hilton will be putting on special events to raise money for at least two Sunshine Coaches – which are used for trips out for disabled children.
The Hilton has also agreed to donate £1 for every cup of tea sold from their exclusive Cloud 23 bar and are currently planning a star ball on October 4.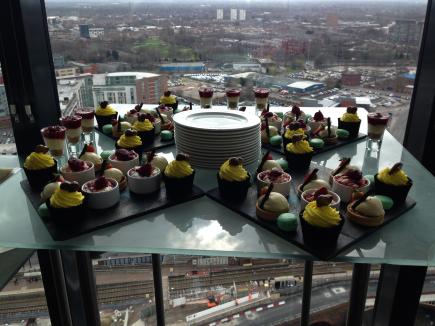 ADMIRING THE VIEW: Hilton's cake selection overlooking the city
 
The iconic hotel is also considering plans to build a playground for both disabled and able bodied children.
John Mclaughlin, General Manager at Hilton Manchester, said: "The Hilton and Variety are coming together to give back to the community in Manchester.
"In the local area we have raised £1.7million for charities and £1.2million of that has been gone back to Manchester.
"This is the start of a great journey with variety and I hope we can celebrate a lot of success."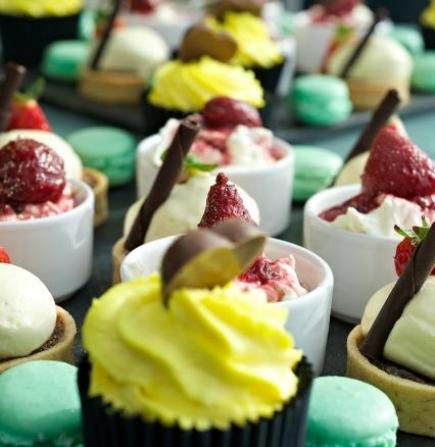 YUMMY: Wonderful cakes on offer at the launch event
 
Despite the fact Variety receives no government funding the charity still manages to raise huge sums of money for disabled children.
The global charity is run by unpaid volunteers who donate their time to help children suffering with disabilities.
Since the charity came to the UK in 1949, Variety has raised more than £270million for disabled children – including Becky.
"My life changed when Variety's appeal bought me an electric wheelchair – it has given me confidence and independence," said Becky.
"A wheelchair isn't just a means of transportation, it gives a child the opportunity to live their life and take part in everyday activities."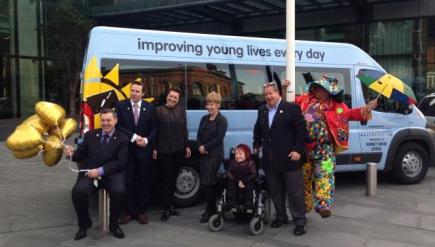 SAY CHEESE: Becky and Variety pose outside the iconic hotel
 
Last year Variety provided 125 wheel chairs and 63 Sunshine coaches across the UK as well as donating state-of-the-art equipment to improve the standard of living for children around the country.  
Having worked for the charity for more than 21 years, Laurence Davis has seen hundreds of children have their lives changed first hand.
Mr Davis, a Trustee and former Chief Barker, told MM: "People in Manchester matter and at Variety we try and provide a service that helps young people with problems that aren't their fault.
"We get no government funding so we have to raise all the money ourselves and last year across the UK we raised more than £6.5million.
"We arrange an array of meet and greets, cinema visits and theme park visits anything that children want to do we try and provide.
"We have more than 150 volunteers that work for Variety free of charge and that is a huge reason that the charity has been so successful. They have been remarkable."