After battling back from two serious kidney operations, three-time British Transplant Games medallist Carla Phillips (née Maclean) would be a certainty for the podium in Bolton this week – had she not suffered a stroke just six weeks ago.
While the enthusiastic Carla's love for the August 7-10 British Transplant Games has never dimmed, the 43-year-old has seen her training disrupted after an 'up and down' year with health.
Carla suffered a mystery stroke that left her with a weakened left arm – a limb that plays the most crucial role when aiming for the target.
"I'm stubborn. I had the stroke on the Thursday morning and I was back in work on the Monday," Carla, from Chester, told MM.
"The doctors still know what the cause was and I couldn't do archery for a month."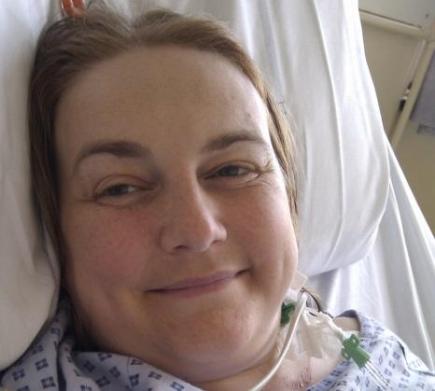 IRON LADY: Carla's resolve has seen her through some tough times.
The Transplant Games veteran, who is already the only competitor using an outdated longbow, has been receiving physiotherapy in the frantic race to be fit for the event as she has been restricted to 'fun events' rather than serious competition.
And she has already made adjustments to her bow, reducing from her tried-and-tested 30 pound equipment to a lighter 25 pound model.
But the top archer is undeterred by the hindrance and could barely contain her excitement on the eve of the event.
"I was very sporty when I was younger but after I got ill it fell by the way side," said Carla, who is preparing by stocking up on sweets before the event.
"I was quite poorly at the time but now I'm a bursting with energy."
Carla received her first donation at the age of 21 after suffering kidney failure during her teens.
She made her debut at the 2011 Belfast Games just a year after her husband Peter donated a kidney to her in a second transplant at the age of 39.
She has since scooped gold, silver and a bronze in her headline event of field archery and insists her kidney is 'working beautifully' as she looks to beat the odds and add to her medal haul.
But Carla's favourite thing about the Transplant Games is not hitting the target on the archery – it's watching the childrens' athletics as she 'takes it easy' on the Sunday ahead of the traditional closing gala dinner.
"I'd love nothing more than to get more publicity. It's amazing to see the little mites run their heart, or sometimes someone else's heart, out. I wish the world could see it," she said.
"It's our chance to show the world what people who have had transplants can do."
Before she has the pleasure of spectating, multi-talented Carla has the hard work of competing, kicking off with the archery before hitting the pool for the swimming and looking to score a strike in the ten-pin bowling.
She is also the sole female member of Royal Liverpool Adults' soft cricket team after 'loving' her introduction to the sport last year in Sheffield.
And the hectic Transplant Games weekend is just another part of Carla's frantic schedule, as she combines her sporting exploits with her day job running her own business that puts on historical workshops for children.
Carla's job combines her passion for medieval re-enactments as a part of Wirral group Wirhallh Skip Felag with her working life.
"It was really hard to get a job after my transplant, I'm self-employed now and that's great because it lets me plan my work around my life. Now, I spend most of my time dressed as a Viking and I love it," she said.
For her Belfast debut, Carla raised over £1,200 for charity Transplant Sport UK and fired her arrows in full medieval dress – and even competed in the 3km run in her gear.
From then on, she has been handed the moniker 'Maid Marion' – but this year will be forgoing the tunic this time around.
A passionate supporter of the organ donation cause, Carla has even travelled down to Westminster in a bid to get her local MP to put their name down on the list.
"What people don't realise is you are more likely to need a transplant than to donate an organ, so you are only helping yourself by joining the list," she said.
Carla is an advocate of charity Live Life Give Life http://livelifegivelife.org.uk/