Two Greater Manchester fire fighters led the charge on a grueling climb up the height of Mount Everest – by scaling a fire engine ladder more than 1,000 times.
David Cracknell and Kevan Downey battled the elements and scaled 8,848metres, the height of the largest mountain in the world, in aid of the When You Wish Upon A Star foundation last weekend.
The duo, alongside other Greater Manchester fire fighters and volunteers, spent a tiring six hours repeatedly climbing the 13.5metre ladder at Mersey Way Shopping Precinct in rainy Stockport, reaching its summit 1,474 times.
David told MM: "It started off a bit rough because the weather was shocking so we had to go and hastily grab a gazebo but as soon as we started all of the rain stopped and it was great.
"Loads of other firefighters turned out there with lads from all over the place who came to do a bit and so it wasn't too bad because we just had a constant line of people ready to go.
"We had all of our volunteers out rattling buckets and we managed to raise £1,600 all together so we're really pleased."
And after the duo's successful completion of the charity challenge they're now considering the possibility of climbing Mount Everest for real.
David said: "We could do but I'm not sure we'd be able to climb up there in fancy dress!
"Me and Kev tend to do everything in costume you see."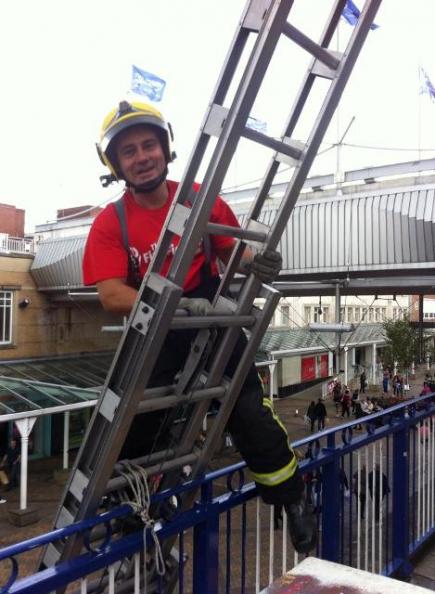 CONQUERED! Greater Manchester firefighters managed to raise £1,600 from their climbing exploits
The boys have managed to raise a total of £3,000 through fundraising activities which have included running Manchester's 10k dressed in a 50ft long caterpillar costume and full firefighter breathing apparatus as well as cycling the distance of Land's End to John O'Groats.
"We've done all kinds of daft stuff dressed in our full gear. We try and make it hard for ourselves so that people don't mind donating," added David.
"Me and Kev went back through all our photographs and worked out we've done something every year now since 2008."
As well as supporting the Make A Wish Foundation, funds raised will also go to The FireFighters Charity, which is the UK's leading provider of services that enhance quality of life for serving and retired fire fighters.
David said: "They're both really great charities so we're always happy to help raise what we can."
All images courtesy of Kevan Downey, with thanks