Rail strikes won't work according to a Deansgate customer service worker, who fears the introduction of driver-only trains is "written in stone" under a flailing Conservative government.
MM spoke to the two workers guarding Deansgate station during yet another Northern Rail strike, which left the building on lockdown all Thursday.
With significantly fewer services passing through the station, the men were forced to direct passengers towards Oxford Road, which is large enough to house the droves of waiting customers.
David Darwood and David Warden blamed the lack of government funding for the union-opposed plans to scrap train guards.
Mr Warden explained: "I don't blame Northern for it, it is all to do with the government investment. A couple of years ago they took a load of money away from the railway.
"You're not being invested in anymore, and that money needs to go on people's wages."
Both employees appeared unoptimistic when discussing the outcome of the continued strike action, with Mr Warden conceding plans for driver-only trains will go ahead if the Conservatives remain in power.
"It's written in stone, it has to happen at some point.
"Someone like (Labour leader Jeremy) Corbyn could have come in and changed the railway and it may have worked in our favour, not just us as a railway, but for the public as well."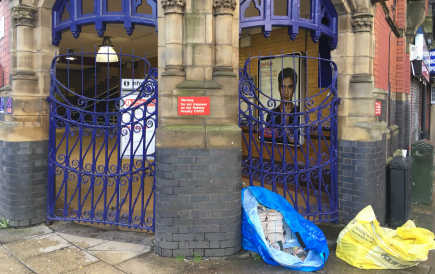 SHUT OUT: The empty Deansgate station on Thursday 
The disapproving employees took the opportunity to explain the risks of not having guards on trains up and down the country.
"People are allowed to drink on the train, so you can have people causing trouble. It happens a lot," added Mr Warden.                     
"Also, if you compare it to the trams, where they are driver-only, their actual platforms meet at every station to the doorway. There's no gap.
"On some of the train stations you can go to, there may be a foot wide gap, so how is that safe for an old lady. The entrances have got to be safe."
Mr Darwood added: "There's a tram station every two minutes. You go on a train from here to Bolton it's 20 minutes on a train, anything can happen to you.
"You'd like to think these trains and trams are safe but at the end of the day it's like anywhere else."
It's not only the safety of passengers that worries the men who deal with customers on a daily basis – the quality of service also came under scrutiny.
"We need a consistent update throughout the whole of the network, not just one or two lines, everywhere.
"We've always had their [London] seconds that's why they [Northern] want the investment. Why are we not getting the same opportunity as London?
"The Buxton line is only electrified to Hazel Grove. Now that's halfway down the line.
"If you need to go to Buxton, you won't be able to get an electric train, so you're on an old diesel train, so you've got no option apart from sitting on an old uncomfortable train.
"Buxton Passengers aren't getting the same service as you would get from Hazel Grove."
Commuter confusion was narrowly avoided at approximately 6.30am, when the first service to pass through Deansgate stopped and opened its doors for customers to alight at the entirely locked building, luckily nobody left the train.
Image courtesy of Trains HQ via YouTube, with thanks.