An eerie extravaganza will sweep through the city's streets as the Gothic Manchester Festival comes back to life later this month.
Lovers of all things black and broody will have plenty to sink their teeth into between October 23-26 with tours of some of Manchester's favourite gothic haunts, talks by goth icons and macabre-themed nights.
Manchester was carefully selected as the setting for the festival – as the first city of industrial modernity, the city grew around dark satanic mills and nineteenth-century gothic architecture.
Dr Linnie Blake, festival convener, said: "Although the 'Madchester' years made us appear to the outside world to be exceptionally Day-Glo, we Mancunians are no strangers to the darkness.
"The Gothic Manchester Festival sets out to introduce people to this darker side of the city, drawing on a wealth of local talent whilst capitalising on the architectural resources of the city itself."
Events will also be raising money for the Sophie Lancaster Foundation – a charity set up after Sophie Lancaster was murdered in 2007.
Police said the attack may have been linked to the couple wearing gothic fashion and being members of the subculture.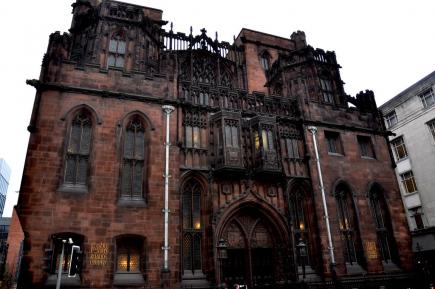 THE DARK SIDE: John Ryland's Library is one of Manchesters gothic beauties
Dr Blake told MM while last year's event was an 'enormous success', this year they hope to build on that to gain as much support as possible for the worthy cause.
 "We were thrilled with the success of the event, which brought people into Manchester from all over the country and as far afield as Ireland," she said.
"And we are delighted to capitalise on that success to add our support to the Sophie Lancaster Foundation's aims and objectives and to raise funds for their future work."
The festival was set up by the Manchester Centre for Gothic Studies, based at MMU, and was the first of its kind in England. 
Dr Blake added: "This year's programme is a little different to last year's, but it retains the mixture of rigorous academic focus and raucous gothic fun.
"We have a conference on the Saturday on Gothic Spaces and Gothic Places at the Anthony Burgess Foundation, which is open to academics and non-academics alike. We also have walking tours of Monstrous Manchester and the John Rylands Museum.
"I'm particularly thrilled by 'What is This Thing Called Steampunk?' which features talks on Steampunk books, films and fandom plus afternoon tea.
"We also have a talk from novelist, rockstar, poet and burlesque artiste Rosie Garland (aka Rosie Lugosi) at the John Rylands Library's magnificent Reading Room. I simply can't wait for that!"
The festival is carefully timed, taking place just a few days before Halloween, a time Dr Blake views as a 'celebration'.
"It lends itself well to tales of ghosts and spirits that will be our companions until spring brings the world to life again," she said.
For more information about Gothic Manchester Festival, click here.
Main image courtesy of OkOk, via Flickr, with thanks
Inset image courtesy of Jennifer Boyer, via Flickr, with thanks