Bus company Stagecoach and its charity partner, Forever Manchester, provided supplies to those in need this week, delivering to five foodbanks across the region.
As winter creeps in, the charity has found many families are struggling financially due to the economic impact of the Covid-19 pandemic, and says donations to food banks are becoming increasingly important.
Bus drivers from Sharston, Stockport and Hyde Road depots gave a helping hand, delivering extra food items to the regions food banks, including Manchester South Central and Compassion Food Bank.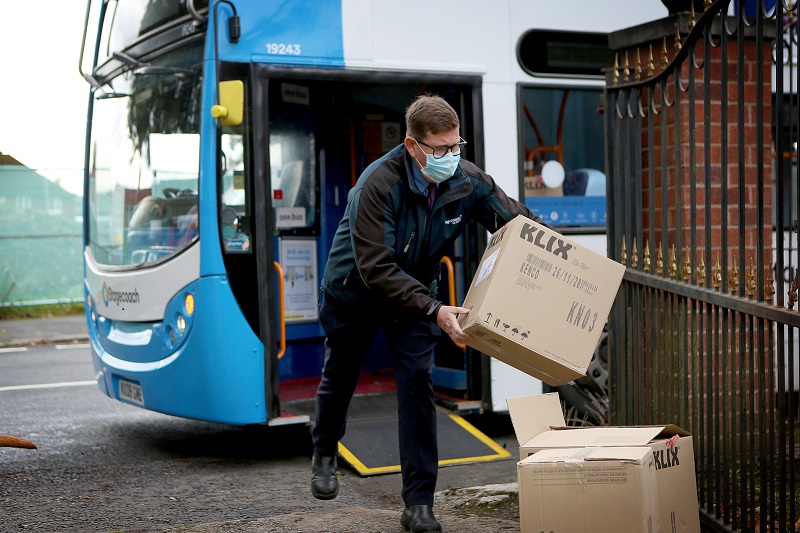 Jean Mills, Head of Business Development at Forever Manchester, said: "Businesses as well as individuals are struggling in these difficult times and it is forecast to get worse for many before it gets better.
"As a charity, we rely on the generosity of others to enable us to do the work we do. It's therefore great that Stagecoach has been able to support its local communities by providing food from its depots and we'll continue to work with the team there to ensure that the food reaches communities where it's needed most. 
"This will make a big difference to people who are struggling on a day-to-day basis."
A change in canteen suppliers meant operators were able to donate boxes including tinned items, dry good and frozen foods.
Elisabeth Tasker, Stagecoach Manchester managing director, said: "There are so many people across Greater Manchester in need of help and support, especially during these difficult and unpredictable times.
"As a result, it's important that we, as a key local business, are able to lend a hand to our local communities when needed.
"Forever Manchester does an incredible job supporting communities across the region and we'll be continuing to work closely with them for the benefit of the region."