Travellers say the new Police, Crime, Sentencing and Courts Bill threatens the very roots of their culture.
The bill once made into law will make 'residing or intending to reside on land without the permission of the owner or occupier' a new criminal offence. 
Human rights groups have called on the government to remove section four of the bill entirely.
Liberty, an advocacy group which 'challenges unjust laws, protects civil liberties and promotes human rights' through the courts, argues that 'the hostile measures contained in Part 4 of this Bill enact a direct attack on the way of life for many in these communities.'
The Legislative Scrutiny Report by the Joint Committee on Human Rights acknowledges that 'the Gypsy, Roma and Traveller Community has faced discrimination and persecution throughout its history and there are a wide range of inequalities that continue to exist,' and that 'the Government can do better to protect that way of life and do more to tackle the discrimination that Gypsies, Roma and Travllers continue to face.'
The report continues: 'While a small minority of the travelling community pose challenges for local authorities and law enforcement, the vast majority of Gypsies, Roma and Travellers are law-abiding exponents of a centuries-old way of life.
'The Government must take particular care to ensure that its actions do not exacerbate the discrimination that continues to be faced by the Gypsy, Roma and Traveller Community.'
Jake Bowers, 49, is a Romani blacksmith and journalist.
He was protesting outside the Conservative Party Conference with Drive2Survive, an organisation established in May in response to the proposed bill. 
He brought about 30 caravans of travellers to Manchester to rally in Piccadilly Gardens and outside Central Library during the conference.  
The caravans are parked on a nearby site that was negotiated with the police in advance and granted by local authorities and the council.
Jake said: 'We're campaigning against the police bill which seeks to eradicate our culture in a way that would not be tolerated by any other community.
'Anybody who travels nomadically like I'm doing at the moment would lose their home, they would face imprisonment and a £2,500 fine.
'They push us into a corner, so we're coming out fighting.'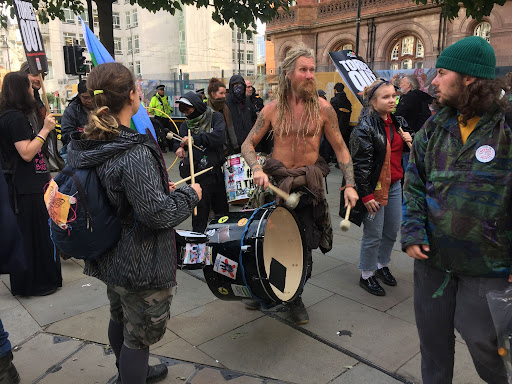 Campaigners congregated on Monday outside the Midland Hotel, where Conservative politicians including Boris Johnson and Priti Patel are staying during the conference. 
Jake said: 'I think the Tory party are into the concept of culture war – they find people that they can pick on, thinking that they can win.
'Well, they might think that they can win against us, but we've had worse times. 
'We used to be hanged for who we are, we were deported for who we are.
'So they'll have a good go, and they'll traumatise and they'll brutalise people, but we're not going anywhere. 
'People can't cease to exist just because they don't fit in with Priti Patel's view of humanity.'
Members of the Romany community, the Irish traveller community, and the Scottish traveller community joined together for the demonstration. 
Catherine Gould, 49, left home when she was 16 and has been a traveller ever since. 
She said she was taken in by a group of new-age travellers and taught about their way of life and how to look after herself. 
She said it felt hopeful to see different travelling communities joining together. 
Catherine said: 'Most people in these communities just stick to their own, which is why this is a really big deal. 
'We've all come together for the first time ever.
'It's really powerful – there's a lot of us when we come together.'
Jake said: 'It feels good and it feels hopeful.
'The one thing that can give you hope in this situation is to stand together because it makes you feel stronger.'
As well as being a blacksmith, Jake is a journalist and filmmaker, working to tell the unheard stories of his community. 
He is currently working on a TV documentary entitled '60 Days with the Gypsies', that will air on Channel 4. 
He hopes the documentary will turn the tide on media representation of travelling communities, which he sees as being overwhelmingly negative. 
Catherine agrees that the vast majority of the media representation of her community fails to show who they really are. 
She said: 'If you look in the press, most stories about travellers are really inflammatory.
'Basically, people are being told not to trust us.
'We need people to realise we're all the same, we're all human beings.
'We're diverse and we're beautiful people.'