Manchester Jewish Museum, a former synagogue on Cheetham Hill Road, is preparing for a reopening in Spring 2021 following renovations made this year.
The £5m project will see the museum double in size, with a new gallery, learning studio, shop and café built into an extension.
The Grade II listed synagogue, founded in 1874, is being repaired and restored, with specialists analysing paint scrapings to reinstate the 19th century decorative scheme.
Max Dunbar, CEO of the museum, said: "I am excited to see people's reaction when they see the see the café, walk around the gallery, and learn about stories that have relevance to everyone about migration, communities and identity.
"Someone once described us as the old synagogue with a few displays in, but when we reopen next year I think that people will see we are a very important museum that has strong and relevant stories to tell."
Funding of £2.89m for the restoration was secured through the National Lottery Heritage Fund in 2017.
During the restoration work a builder discovered a time capsule that had been placed in the cornerstone of the synagogue almost 150 years ago.
The time capsule was filled with money, synagogue papers and newspapers from the time the synagogue was founded.
It will be displayed as an exhibit when the museum reopens.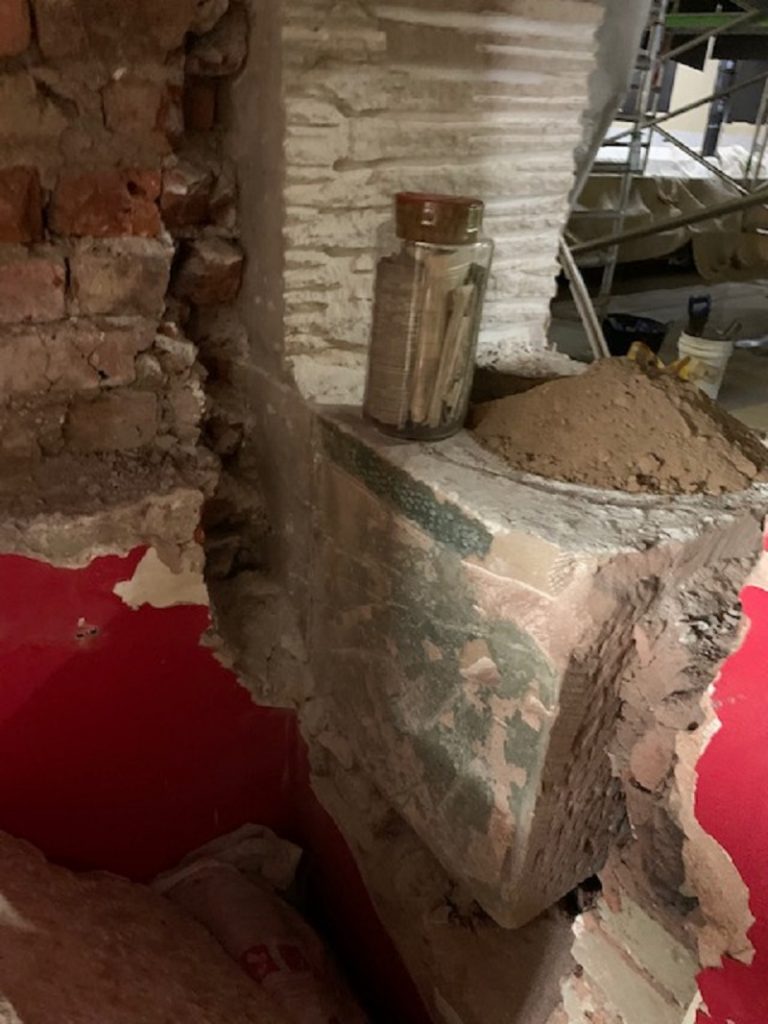 Dunbar said: "The builder who discovered it said that he had worked on sites for many years and it was the best thing he had ever uncovered."
Museum staff are now planning to make their own time capsule of memories from 2020 for future generations to discover.
Between this November and its reopening next Spring, the museum is connecting to Mancunians through a new Trailblazer season of events.
Each month's event will explore themes of re-emergence and transformation and will help audiences to reconnect with Jewish heritage.
This month's event is Chanukah Lewinsky's Big Quiz Night, a virtual drag quiz, held on the 26th November.
The event is pay as you feel, and tickets can be purchased here. 
The museum has been open since 1984, and since that time has aimed to educate people about Jewish tradition and faith.
Anti-Semitism is still a problem in Manchester, with 123 incidents being recorded by the Community Security Trust in the first half of 2019.
Dunbar said: "We are a museum in a Synagogue on possibly the most diverse road in the UK, that is so unique and such an opportunity to address issues around discrimination and anti-Semitism."
Coronavirus has posed less of a problem for the museum than for most cultural institutions in Manchester, because it has been closed throughout the pandemic.
However, the pop-up in Central Library, designed as a hands-on interactive exhibit did not align with Covid regulations and was forced to close.
Dunbar said that when the pop-up was running, Mancunians who never knew the museum existed were coming into central library and discovering the collections.
Museum staff are ensuring that, if social distancing is necessary when the museum opens next Spring, they will be following the necessary guidelines. 
The museum's revamped website, with information on events and collections, can be accessed here.