Two hundred Girl Guides will pay their respects towards a former leader by taking part in Manchester's Midnight Walk to raise money for St Ann's Hospice.
Reddish Guide Leader, Nola Smith, 59, passed away six months ago after battling with breast cancer for ten years and spent her last two weeks in the hospice.
Her group are keen to raise money for St Ann's as she was involved with the Brownies and Guides for around 40 years.
​Senior Section Leader Ann Hornsby, from Mellor, said: "Nola was involved with the Brownies and Guides for around 40 years and was much loved by everyone.
"We wanted to do some fundraising in her memory and decided the easiest option was to involve as many guides past and present as possible from across Stockport in the Midnight Walk.
"We're also planning a sleep over at the scout hut afterwards."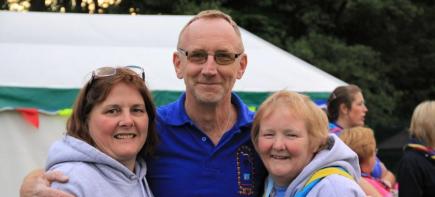 LOVED BY EVERYONE: Nola pictured on the right, with her husband John
The 200-strong group will be stopping off along the route to sing camp fire songs, something Nola loved and, after they've completed the 10km route the Guides hope to sleep over at a scout hut.
The annual walk begins at midnight on June 19 at Manchester Central but the venue will be open from 9pm where walkers can decorate their T-shirts, pick up their goodie bags and enjoy entertainment. 
The route takes in several landmarks including Manchester Cathedral, Spinningfields and a Garden of Remembrance where walkers will have the chance to light a candle in memory of their loved ones.
The walk regularly attracts around 2,000 walkers and on completion its completion, participants will receive a medal to celebrate their achievement. 
Last year the walk raised over £270,000 and if you wish to join in, you can register by clicking here.
The price is £15 for an early-bird entry ticket and £10 for concessions.