Homeowners and businesses across Manchester should be 'proactive' in checking their local flood risk and taking pre-emptive action, claims to a national flood charity.
Last week BuzzFeed showed us what cities around the world would look like 'If All The Ice On Earth Melted'.
Manchester city centre would, they claim, be largely submerged – although at least Piccadilly Gardens' Wheel would still be mostly above water.
To ensure they keep their head above water Rochdale Borough Council has joined forces with the National Flood Forum (NFF).
Sarah Parkington of the NFF told MM: "It's about resilience and helping people help themselves."
The NFF is an independent charity set up to support communities at risk from flooding, by raising awareness of that risk and how they can prepare for its potential effects.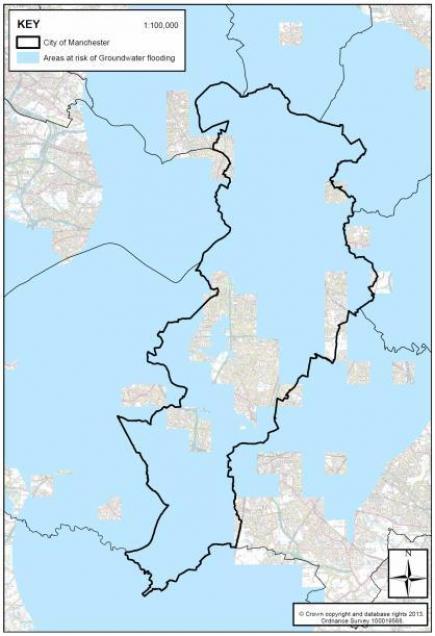 FLOOD FEARS: Flood damage could be widespread in Greater Manchester (©Manchester City Council report 'Local Flood Risk Management Strategy, March 2014' with thanks)
Sarah highlighted Rochdale as an area of particular risk, being termed a 'rapid response catchment' by the Environment Agency, due to the River Roch as well as the town's low-lying location.
"We don't need days upon days of rain to have flooding in the Rochdale area because of its valley formation it can respond quite quickly to bad weather," she said.
"But then in Heywood a lot of the problems are from surface water, just running off from paved areas and low spots. You don't necessarily need to be near a watercourse to be at risk."
Although she has been tasked with looking at Rochdale and Heywood in particular, she admitted that other areas in Greater Manchester have had flood problems in the past, or could in the future.
She said: "Salford also has a lot of problems due to its low-lying nature making it susceptible to flooding as are parts of Bury and other areas.
"The Association of Greater Manchester Authorities (AGMA) is also involved in the project as they like to work under the same umbrella.
"So there are a number of different areas that have had some flooding and, although the response is different in those areas, overall Manchester's authorities are trying to work together to put the best practice into place in each area."
Part of that work involves drawing up flood risk management strategies, such as that created by Manchester City Council in March of this year.
The document recognises that Manchester's waterways have brought prosperity to the city as canal-side activities continue to prove attractive.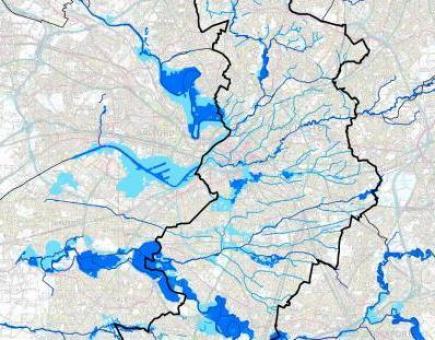 AT RISK: The Manchester areas that would be hardest hit by flooding (©Manchester City Council report 'Local Flood Risk Management Strategy, March 2014' with thanks)
But the paper also admits the increased risk of flooding means that they must also be managed with funding allocated maintain to flood defences.
Rochdale Council has its own strategy, and is also running a 'Flood Awareness Roadshow' this Sunday which aims to educate residents and business owners in the area about the impact of flooding and how they can combat those effects.
Some of the problems caused by flooding are obvious – wrecked homes, lost property – but they also stretch to the spread of disease and skyrocketing insurance premiums.
Ms Parkington said: "Unfortunately, floods tend to churn up sewage, especially in some of the older terraced areas where there are combined sewers.
"Those Victorian systems see it mix with household waste. So you have to be careful to clean and disinfect yourself properly if you have to go through floodwater."
As for insurance, she added that some areas are being termed 'high risk' simply because they are close to water, and that has led to premiums becoming unaffordable for many people.
She said that businesses and residents should first of all find out what their local flood risk is – and where it is likely to come from – as well as signing up to flood alerts from the Environment Agency or Met Office.
They should also ensure that drains and gullies are not blocked by litter or food waste and considering how well-maintained their property is to reduce the potential entry points for floodwater.
"It's about being proactive and minimising the damage that may be caused," she said.
In addition to urging people to take these precautions, the NFF is also applying pressure for new regulations to be introduced, putting checks in place for new building work.
"It would mean the planners have to prove the development won't exacerbate or cause any further flood risk in the area," Ms Parkington said.
"But that still needs to come into practice and unfortunately there has been a lot of unscrupulous building in the past that has put people at risk from flooding. There is still a long way to go with that."
Image courtesy of Force Thirteen via Youtube with thanks