People in Greater Manchester have donated an 'incredible' £173,600 in just over a week for the Disasters Emergency Committee appeal to help those affected by the Ebola crisis.
The appeal was only launched last Thursday, October 30, but has seen £14million raised nationwide in the eight days since.
The work of the Disasters Emergency Committee (DEC) has already reached over eight million people in the affected nations. More than 4.8million people in Sierra Leone alone have been helped by the charitable organisations.
Linda Tiongco, North West Regional Manager at Christian Aid, said: "It is amazing the generosity of the people of Manchester, it's incredible. The people of Manchester always step up to the plate and are generous to people who are suffering."
The Disasters Emergency Committee is made up of several leading UK charities including British Red Cross, Christian Aid and Oxfam.
Their support includes Red Cross treatment for 143 infected people, the safe burial of 3,800 bodies, and the tracing of 50,000 people who have had contact with Ebola sufferers, for the purposes of quarantine, testing or treatment.
Food has also been provided for 80,000 people, many of whom have been living in quarantine.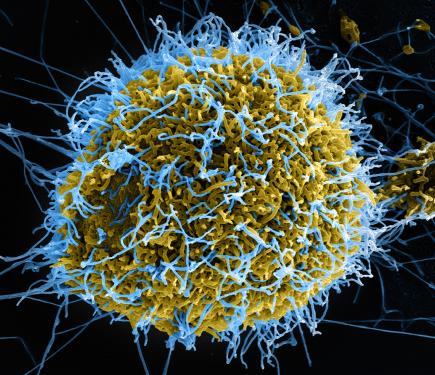 DEEPLY CONCERNED: The deadly virus will cause untold damage to people's livelihoods, warns the DEC (©NIAID, with thanks)
As well as the short term health impact, there are concerns about food shortages in the region due to restrictions on agriculture, alongside worries about with the wellbeing and care of pregnant women.
DEC Chief Executive, Saleh Saeed said: "This outbreak is not only a health crisis, but a humanitarian disaster, which could have serious repercussions around the world.
"We're deeply concerned about the longer term impact of the crisis on health systems and the fact that many people have lost their means of making a living.
"It's crucial therefore that we continue to receive generous donations, so we can not only help save lives now but also help rebuild lives for the future."
One of the main vulnerable groups are pregnant women who are due to give birth in the next 12 months.
Ms Tiongco said: "There is going to be a food crisis, but we will be able to carry on supporting people as they recover. There are hundreds of thousands of women giving birth in the next 12 months. They will need care and looking after and the money will help to look after these people."
A donation of just £25 will help protect three families from Ebola by providing them with cleaning kits which include bleach, soap and buckets. £50 can provide basic protective clothing such as gloves, masks, boots and gowns for three people providing support to people under quarantine.
To make a donation to the DEC Ebola Crisis Appeal, click here or call the 24-hour hotline on 0370 60 60 900. Donations can be made in any high street bank or post office over the counter. You can also donate £5 by texting SUPPORT to 70000.
Top image courtesy of Army Medicine, with thanks