New direct flights from Manchester Airport to Hong Kong will see business links between the east and the west 'go from strength to strength', says the airport's chief excecutive.
Manchester is the only airport outside of London to offer a non-stop flight to China, after striking a deal with global giants Cathay Pacific. 
The first flight jetted out of the city on Monday and Charlie Cornish, CEO of Manchester Airports Group, told MM that there was no other airport outside of the capital that could attract such a route.
"Outside of London we're the only airport that can get this level of connectivity," he said.
"Manchester is an airport that actually competes in the long haul market; we've now got over five million passengers that travel to long haul destinations.
"When we engage with long haul airlines it's a process that can take three or four years – then its demonstrating that Manchester is a great place for tourists to come and to do business.
"All the market research we do would tend to support the view that passengers like to fly point to point – I think the relationship will go from strength to strength."
The flight will take just 12 hours and will also serve as the quickest way to get from Manchester to Sydney, thanks to the advanced technology in the Boeing 777-300ER aircraft.
There will currently be four flights a week, but Mr Cornish revealed the possibility for this to develop into a daily service and said talks are underway for a direct service to Beijing to be introduced.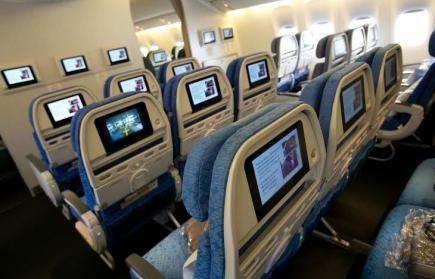 ALL ABOARD: First look inside the new 777-300ER aircraft
Cathay Pacific were voted this year's World's Best Airline by Skytrax and Angus Barclay, General Manager Europe, spoke of the positive impact the flights will have on Manchester.
"China this year is going to surpass America as being the point of origin for the greatest numbers of overseas travellers, over 100 million people," he said.
"When these people arrive in the UK they spend more money per capita than any other nationality, so it's a fantastic opportunity to attract Chinese people into Manchester.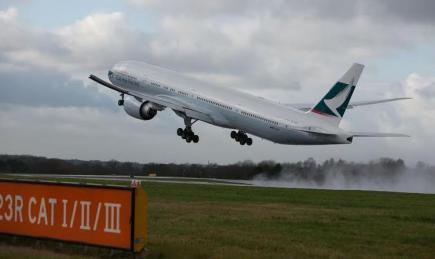 TAKE-OFF: First direct flight from Manchester to Hong Kong takes off
"We were very keen to develop our business in the rest of the UK and Manchester is a fantastic hub for both business reasons but also for leisure.
"We can see lots of opportunity and it was a great area to expand outside of London."
Other than London Heathrow, that charters five direct flights a day, Manchester Airport is the only major UK airport with two full-length runways.
With more than 21.8 million passengers going through its gates to and from 200 global destinations each year, this latest deal highlights the growth the airport is making.
Gerry Yeung, owner of the city centre restaurant Yang Sing, feels this development can only benefit the Greater Manchester economy in the long term.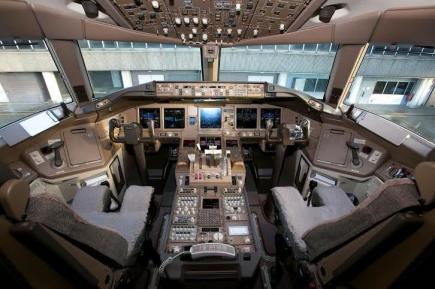 FIRST LOOK: The cockpit inside the new 777-300ER aircraft
"The direct flight will probably bring in more tourists, at the moment if they fly to London they will not stay here very long," he said.
"But if they are flying direct to Manchester I think they will spend more time and the whole economy will benefit from it.
"It also gives another indication that Manchester is an international city and connectivity to the Far East I think is very important."
Incoming flights will arrive in Manchester from Hong Kong at 0620, every Monday, Tuesday, Thursday and Saturday with same day departures at 1200.
Tickets in economy class start from £639 to Hong Kong International Airport, inclusive of all taxes, and can be booked here.  www.cathaypacific.co.uk