Manchester City Council failed to collect more than £67million in council tax since 2010.
The amount uncollected soared from £2.4million to £14.2million a year during the nine year period, rising consistently and spiking most markedly between 2017/18 and 2018/19 when it increased by over £4million.
Figures collected by the council – revealed to MM under the Freedom of Information Act 2000 – show the staggering amount the local authority was unable to obtain, coming at a time when Tory cuts forced it to make savings of up to £372million.
Although the amount uncollected rose in absolute terms, the percentage of tax the council failed to collect actually decreased during the period, falling from 10% to 7% between 2010 and 2019.
However, the £67million total remains an alarming figure that raises questions about what more the authority can do to reduce its arrears.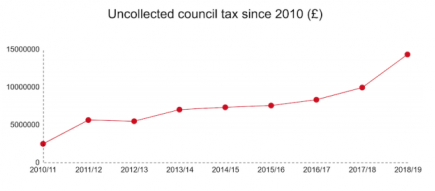 Liberal Democrat Cllr John Leech, one of two opposition councillors at Manchester City Council, said: "Although I think the council have actually made some progress in collecting council tax in percentage terms, the £67million outstanding is a startling figure and could provide a lot of services for the people of Manchester.
"It is staggering when you consider that £14million went uncollected last year and that figure was still £9million the year before.
"There are numerous explanations for these figures, and one thing I have been very critical of was the council's decision to reduce the maximum benefit available for people on benefits.
"The calculation affected the least well off people in Manchester, and it is undoubtedly the case that there are a lot of people who really, genuinely struggle to pay the bills they need to pay.
"It doesn't at all surprise me that we have significant council tax arrears here in Manchester."
In 2017, the council voted to increase the amount of tax people on maximum benefits had to pay from 10% to 17.5%, leading to an overall tax bill increase of 22% given the 3.5-4% year on year rise.
And Mr Leech was adamant such a decision left many people in the city unable to pay their bill.
"I think this was the biggest issue leading to these figures, and the result led to genuine hardship and people being genuinely incapable of paying the bills that they have," he added.
"People often have to make choices about what is the most urgent bill, and often council tax is lower down the list of priorities behind rent or feeding or clothing their kids."
The £67million council tax arrears came during the years of austerity and drastic Tory cuts to local authorities, the impact of which the council said has 'hit them hard'.
In addition to the £372million the authority was forced to save since 2010, it also saw a reduction of 4,000 full-time employees – 40% of its overall workforce.
Despite the council increasing its proportional tax collection rate almost every year between 2010 and 2019, the cumulative total represents a considerable 18% of the savings it had to make.
Cllr Carl Ollerhead, Labour executive member for finance and human resources, said: "At a time when more is being asked of councils every single year we have simultaneously been hit by cuts to our funding, undermining the way in which we can go about even the most basic functions of local government.
"Collecting council tax is one of the ways by which Manchester City Council educates our younger people, supports the elderly, and grows the city to be one of the most dynamic in the world. Over the past ten years, this has been an increasingly difficult task. 
"It is wholly unfair that there is a minority of people in the city who benefit from, but refuse to contribute to, the collective pot at a time when local authorities are relying more and more heavily on council tax to deliver vital services – and it is costing the city more than £10million per year."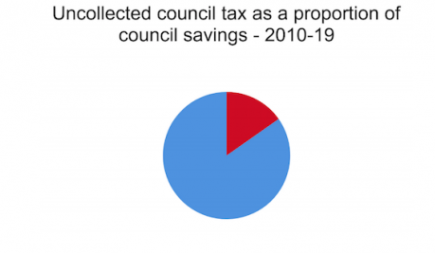 Despite the sizeable nine-year total, Mr Ollerhead defended the council's record in following statutory process and ensuring council tax was paid.
"In spite of shrinking budgets and staff numbers a high collection rate has been maintained, with more than 93% of eligible households paying over the same time period," he added.
"At the same time we are exploring new ways to collect money owed in partnership with HMRC, money which when recovered will be reinvested to ensure the people and places of Manchester can prosper."
It was announced last week that Manchester City Council will be one of 29 councils across the UK to pilot a new scheme to help recover unpaid council tax, using powers introduced by the Digital Economy Act of 2017 to target non-paying customers.
The initiative will contact those who have failed to pay and request they clear their council tax debts, with failure to do so leading to an automatic deduction of earnings coming directly through their employer should they be in a financial position to do so.
"We will continue to support those people who are struggling to make ends meet with help from our colleagues in the city's debt advice charities, but it's time for those who are avoiding council tax to play their part," Mr Ollerhead said.
"We hope this pilot gives us the power to hold these people to account."
While those deliberately avoiding council tax will receive an order to pay by the local magistrates court, Manchester remains the third most deprived local authority in the country, with 2014 seeing a change where working age residents on the lowest incomes had to pay council tax for the first time.
This decision was compounded by consistent year on year council tax rises, driven by the need to fund key services such as adult social care and transport.
And these increases have often led to Manchester residents' inability to pay their bills, contributing to the £67million figure that was also condemned by right-leaning pressure group the Taxpayers' Alliance.
"The increase at Manchester City Council in recent years is a real cause for alarm, and more rigorous systems must be in place to limit the problem," John O'Connell, chief executive, said.
"Council tax is a hugely frustrating thing to pay each month, but non-payment affects others.
"Many statutory services will be provided in Manchester less well because of this level of uncollected council tax."
For more information about council tax, visit manchester.gov.uk or gov.uk/council-tax