As the summer reached its peak on Saturday, the city centre was swarmed with ice cream lovers, shoppers rushing to the final sales – and a group of masked people dressed in black jumpsuits in honour of Manchester's newest superhero.
These mysterious figures moved amongst the crowd, responding to the hustle and bustle around St Ann's Square.
Sometimes walking in unison, repeating actions, or stopping to take pictures with passers-by, like shadows they responded to their environment.
The performance builds upon the work of Chrissy Jones, an artist living with a learning disability label who's teamed up with Proud and Loud Arts and Word of Warning to create Shadow Girl – the City Streets.
Shadow Girl, as Chrissy explains, is the superhero she created to cope with the disturbing rise in hate crime in Manchester.
She said: "It's about a girl who is upset and anxious about being bullied so she hides in the shadows where no one can see her.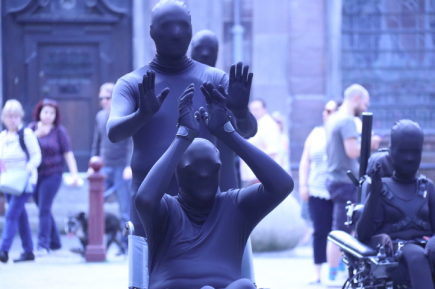 ART: The group were out in force to send a message about hate crime
"There she makes some new shadow friends and for the first time she feels like she belongs, until one day she is strong enough to become Shadow Girl… protecting people from the bullies so they don't have to hide in the shadows like she did."
When developing Shadow Girl – the City Streets, Chrissy reflected on her time in school, where she came across bullies who made her feel invisible and unwanted.
However, in Shadow Girl she realised that when faced with bullies you 'shouldn't be afraid' and should instead be true to yourself by 'staying out of the shadows'.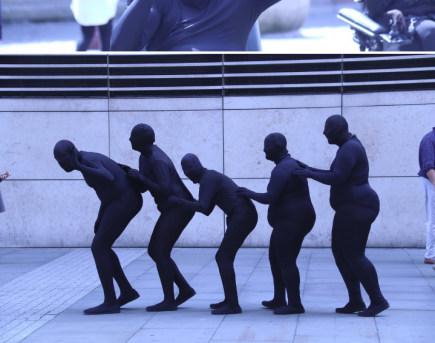 PUBLIC: The shadows stormed St Ann's Square on a busy Saturday
The group of shadows who roamed through the city centre all had a disability label but, when they embraced the anonymity their costumes, their personalities became the focus of their performance.
Tamsin Drury, director of hÅb & Word of Warning, was ecstatic with the success of the event as she travelled behind the group of shadows with her team of stewards handing out flyers.
"Shadow Girl is out and proud because there are no expectations and the costumes are so liberating and unifying," said Tamsin.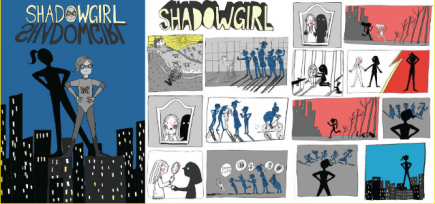 COMIC: Shadow Girl is the brainchild of Chrissy Jones
Prior to their performance, the Proud and Loud Arts group rehearsed at Bolton University and Hulme Park where their 'exploration of spaces' began to take form.
Tom Hogan, artistic director of Proud and Loud Arts, has known Chrissy since she was 16.
He applauds how she has channelled her creativity and was proud of her candour when 'telling the world what she thinks about and how she thinks it'.
*Images courtesy of Tamsin Drury, with thanks.