Adventurous animal lovers will be put to the test and brave the elements to raise more than £4,000 in a heroic fire and ice walk.
The Manchester & Salford branch of the RSPCA is challenging daring thrill seekers to hotfoot it over the 500 degree celsius flames before cooling off with a 15-foot skip over broken glass.
The stunt will pull in much-needed funds for the charity when it takes place at St Matthew's Church Hall on Chapel Lane in Stretford on October 4.
RSPCA Manchester & Salford Branch Manager Susie Hughes told MM: "The idea came from my brain!
"I'm always like looking for new challenges to do and this year it was either abseiling – though the video of people hurtling towards the concrete put people off a bit – or fire walking."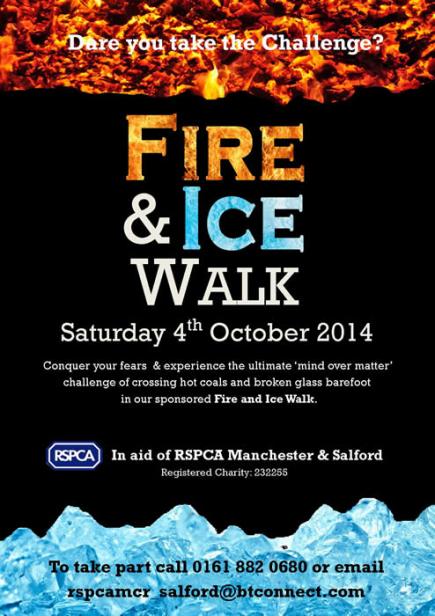 The RSPCA are looking for 50 daredevils to own the embers in the logic-defying challenge run by Guinness World Record holders Firewalk UK.
And no strangers to protecting animals from danger the charity insist there is no risk to humans braving the heat and the razor-sharp glass.
In fact the challenge is far from the terror-inducing ordeal many would expect and has seen people overcome fears, achieve self-fulfilment and spiritual awakening from the act.
And even if the warm glow of saving animals from harm is not enough to stoke the fires, perhaps the bragging rights over friends will be enough to push you down the path.
In the past the group have ziplined outside the Manchester Imperial War Museum and have also taken on Europe's highest lighthouse, 500 foot-tall Leasowe in the Wirral.
And this year, Susie has opted to keep her feet on the ground – albeit one covered in flames and glass – and is encouraged by the diversity of participants the challenge could attract.
"The good thing is that anyone can do it – any age or disability and that is what I really found attractive," said the 40-year-old. "It's just mind over matter."
There is no need to feel the heat over walking on a 1,200 degrees Fahrenheit – even if it's a hundred degrees hotter than aluminium's melting point and more than enough to top up a tan.
Susie has already had a few volunteers put their best foot forward for the sake of the animals.
"I am really hopeful that a lot of people will sign up to do it," she said.
The registration fee is £20 per person – half of the usual cost of tackling the blaze with the RSPCA stumping up the rest of the cash.
In order to take part firewalkers must raise a minimum of £75 each.
The walk will take place at St Matthew's Church Hall on Chapel Lane in Stretford located directly opposite Stretford Mall between 3-7pm.
For more information click here.
Picture courtesy of lamazone, with thanks