A Salford murder victim's mum is appealing to the public to help find the person who gunned down her son after the third anniversary of his death yesterday.
Lee Erdmann, a 37-year-old dad of five, was shot at point blank range in Ordsall's Wellington pub, Regent Road, on Saturday September 10 2011.
It's believed Lee was standing at the bar in the pub lounge, at around 2.50am, when another customer who he had previously been conversing with shot him twice.
There had been no altercation between the two or anyone else in the pub before the incident.
Three years on from her son's violent and tragic death, Lee's mother has directly asked Salford residents to help police convict the one responsible.
Despite numerous appeals and interviews carried out by the GMP, no one has been convicted for the murder.
Pub CCTV footage which may have captured images of the murder has also been stolen.
Lee's mum Pat Erdmann, said: "It's three years since I lost my son and the pain just doesn't end. 
"The only thing that will allow us to ever move on with our lives would be knowing that his killer was in jail. Until that happens we are completely in limbo with our lives.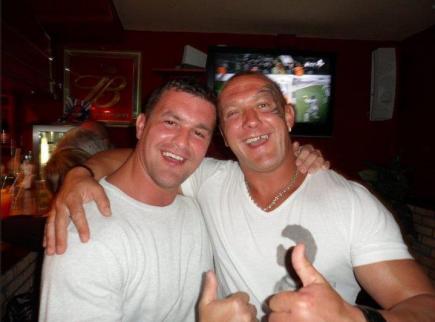 BRUTAL MURDER: Lee was shot twice at point blank range in front of 30 witnesses
"Losing your child like this is the worst thing, but I will never be able to get over the fact I couldn't hold Lee's hand after he died. I couldn't go to hospital because I was ill at the time and I never got to say goodbye…this haunts me every day of my life. 
"Like any mother I just want justice for my son. I know there were 20 or 30 people in the pub that night and I know they witnessed a brutal murder. But we need someone to tell the police the name of the killer. Please, speak to the police and let them do the rest." 
Detective Superintendent Jon Chadwick, who is leading the investigation, said: "They say time's a great healer, but I can assure you the feelings about this cold-blooded killing remain as raw as ever. 
"Pat and her family have been through the agony of having lost Lee and for her, the lack of justice is an extra burden to bear.
"That is why she's taken the brave decision to speak to the community of Salford today. She knows, as do we, who did this and we also know that there are people within her own community who have the answers."
DS Chadwick went on to stress the point that Lee's killer is likely to be known in the Ordsall community.
He added: "It is now three years since this brutal murder so this has gone on long enough. Listen to this grieving mother and put yourself in her shoes just for one moment. 
"If you know something about what happened that night, and you haven't yet spoken to us, then pick up the phone and do the right thing. 
"All our inquiries have led us to one conclusion –Witnesses there that night and others within the wider community know who did this. 
"Ordsall is a strong community and residents have proved in the recent past that they have real resolve. There have been real improvements in the area and I am confident that the community would have noticed a genuine a reduction in crime and anti-social behaviour. 
"We know the answers to Lee's murder lie within Ordsall but we also know that people who live here are proud of where they live. I also firmly believe that they want to put this incident behind them and they know a conviction for the killer of Lee Erdmann would help residents move on."
A reward of £50,000 is still being offered for information leading to the conviction of those responsible.
 Anyone with information should call the Major Incident Team on 0161 8561 722 or Crimestoppers anonymously on 0800 555 111. 
All images courtesy of Facebook with thanks