The thought of moth watching on a Saturday night might not give you butterflies in your stomach, but the work of migration experts would be 'impossible' without volunteers.
Manchester Museum's insect expert is encouraging local residents to take part in a nationwide event to monitor and record moth species.
The Curator of Arthropods Dr Dmitri Logunov, who studies spiders, insects and crustaceans, said that since scientists are not able to monitor all wildlife activities, the help of volunteers in events like the annual Moth Night is vital to scientific research.
He said: "We need to have these public events. Volunteers help with monitoring the movement and diversity of animals.
"Birdwatching is very famous, but people don't know that you can spend time watching moths and butterflies.
"It would be impossible for professionals to do their work without the help of ordinary people."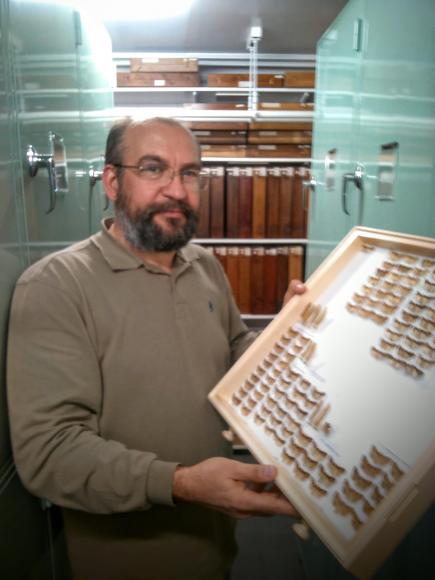 MOTH MIGRATION: Dr Logunov said scientist rely on the help of volunteers to map the movement of animals
Moth Night is organised by Butterfly Conservation and Artropos, a journal for butterfly, moth and dragonfly enthusiasts, and runs from Thursday September 10 to Saturday September 12.
This year's theme is Migration, with Butterfly Conservation urging participants to build a clearer picture of moth migration in the UK by keeping a special eye out for migrant species such as the palm-sized Convolvulus Hawk-moth, which likes to feast on wine using its 7.5cm tongue.
Around 40 species of migrant moths have appeared in the UK for the first time since the start of the millennium.
But Dr Logunov, who is also making a YouTube video about butterfly migration with Professor Laurence Cook of the Department of Life Sciences at the University of Manchester, said he wouldn't necessarily attribute the rise in migratory insects to causes such as climate change.
He told MM: "There's no simple answer. Nature is much more complicated than we think of it.
"There are hundreds of reasons we're unaware of, so we can't say it's because the climate becomes warmer."
The Moth Night organisers encourage participants to attract moths using light traps and bait traps with sugar or wine.
Dr Logunov said participants should hope for warm and overcast weather.
He added: "The best nights for collecting them would be cloudy, warm and humid nights. Then you can get loads of creatures."
He explained that was because night-flying moths navigate by moonlight, so if they can't see the moon it's easier to fool them with an artificial light source.
The reason they circle the lights is because they are trying to keep their flight paths at the same angle to them, as they do with the moon.
Dr Logunov said the event had something to offer all who got involved.
"The professionals are hoping for something they didn't know before, whether a new record or a new species on a local level. For family groups and kids, it's just fun," he said.
To find out more about Moth Night, visit the event website. 
Main image courtesy of Iron Chris, via wikipedia, with thanks.