Greater Manchester fell silent this morning in honour of Armistice Day.
The two minute's silence – a time to reflect upon those who lost their lives during World War One – was acknowledged far and wide.
In particular, the voices of the city centre came to a standstill as thousands took the time to consider the brave men who died between 1914 and 1918.
At exactly 11am, the sound of a canon could be heard in shops, offices and other public spaces around the memorial on St. Peter's Square.
The loud bang signified it was the correct point for people to take a moment to consider the sacrifices made by millions during warfare.
At the same time, the occasion – which takes place on the anniversary of when the Allies and Germany signed a treaty to end their fighting – was observed at several bustling hubs.
Amongst the many locations that fell silent include Piccadilly Station, Manchester Airport, the Trafford Centre and the Christmas markets.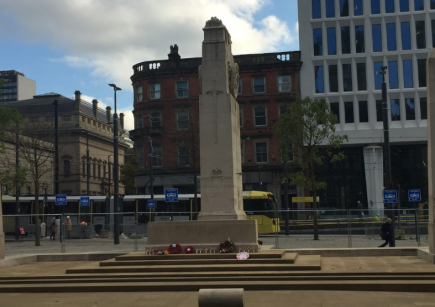 SILENCE: The city came to a standstill out of respect
Prior to the moment of respect, Piccadilly Station warned travellers that they would need to rely on the screens as staff would not be making any audible announcements.
A tweet read: "Please join us in observing a 2 minute silence this morning at 11.00 for #ArmisticeDay Use the screens for info as P. A will be turned off."
Meanwhile, Mancunians flocked to share their pride after watching the city come to a standstill.
One person tweeted: "Tell you what that 2 minutes silence was unbelievable in Manchester then. Goosebumps. Make you proud to be british. #lestweforget (sic)."
Another added: "Beautiful to see a bustling Manchester city centre come to a stand still for a minute's silence at 11. @visit_mcr (sic)."
A third wrote: "The Trafford Centre just came to a stand still. Two minutes silence was observed. Upmost respect to all (sic)."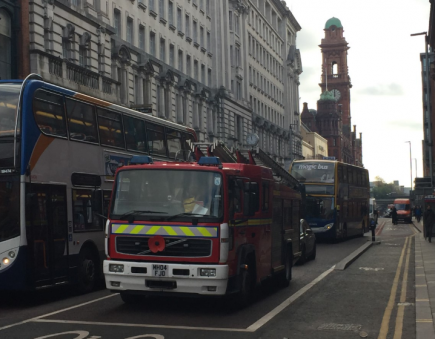 TRIBUTE: A fire engine acknowledges the fallen with a poppy
Earlier this week, the Royal British Legion urged people to consider all those who had lost their lives in conflict rather than just those who died in World War One.
The charity – formed in 1921 to remember the fallen – said the poppy should now reflect all generations of the armed forces.
Alison Bunn, Area Manager for Lancashire and Greater Manchester said: "The Legion is here for all generations of the Armed Forces community, and it's important to remember there's a new generation that needs your support.
"Service men and women, veterans and their families benefit from the services and support that the Legion provides and every donation received will make a real difference."
There will be many more events held this weekend around Greater Manchester as Remembrance Day is observed on Sunday.