Homeless people in Manchester will be able to spend Christmas indoors after Manchester City Council opened disused buildings for them to stay in this week.
The disused Hulme Library building, on Stretford Road, and the former Beech Mount Children's Home in Harpurhey will accommodate 20 rough sleepers each over winter, after planning permission was granted on Thursday 10 December.
Both sites have been refurbished and fitted with beds, and those staying can remain until the end of March.
Opening the Hulme Library accommodation on Friday, Councillor Paul Andrews, executive member for adult health and well-being, said: "What I would dread is waking up to hear that someone has frozen in a doorway in Manchester.
"We have got to do something."
The council is also opening up three buildings in other areas of Manchester, which had previously operated as shared houses, while other spaces are being opened up by faith groups across the city.
This means a total of an extra 165 bed spaces will be available this winter.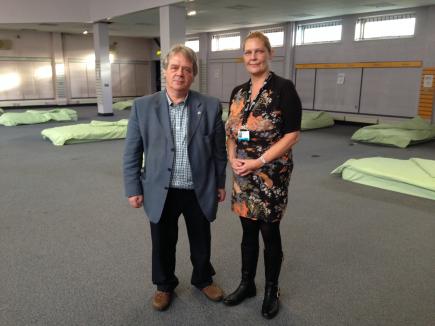 DREAD: Cllr Andrews feared a homeless person dying this winter
Retired Manchester United footballers Gary Neville and Ryan Giggs announced in October that they would be allowing homeless people to stay in their hotel property, the former Stock Exchange building, whilst it is being refurbished this winter.
Cllr Andrews said that the project was not initiated in response to that, and insisted it had been planned for 'months', and that council officers have been exploring options from the summer.
Statistics from Shelter show that more than 52,000 households were identified by local authorities in the North West as homeless last year, more than 33,000 of which have dependent children.
At least 7,000 households in the region were considered to be requiring 'priority need'.
Shelter defines a household in this context as 'comprising one person or a group of people who share living accommodation', whilst 'members of a household are not necessarily related by blood or marriage'.
In a rough headcount in the run-up to Christmas last year, Manchester City Council identified 47 individual rough sleepers, but it was considered to likely be an undercount.
The library site, run by volunteers for Riverside Care and Support, a housing support agency, divides men, women and a couple into different rooms, and 16 of the beds are currently occupied.
The night staff provided by Riverside will also help give access for homeless people staying there to services such as healthcare, mental health services and drug and alcohol specialists.
Dogs are allowed to be brought in and stay, and washing and cooking facilities are also available.
The Harpurhey site divides those staying there into rooms of two.
Eleanor Watts, Riverside Care and Support area manager, said: "The idea is that these buildings will provide accommodation to make sure homeless people are safe over winter.
"It will ensure they can begin to engage with the many organisations which provide services for them in Manchester so they can start to rebuild their lives and ultimately move into permanent accommodation."
Rough sleepers looking to secure accommodation in one of the buildings will need to go through the council's agencies to register at the sites.
According to Cllr Andrews, it has been funded by 'skimming' budgets to ensure that enough money could be picked out to finance the project.
Agencies and the council hope it will provide a base from which rough sleepers can start to build lives independent of charity organisations.
Cllr Andrews said: "We are fully aware of the scale of the problem and that doing this is just the start.
"While providing shelter and a roof over their heads is obviously a good start, what's really important is working with the right groups to make sure proper help and support is available to rough sleepers so we can help them make the first steps towards getting off the streets for good."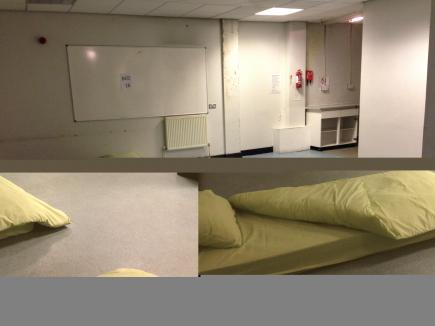 HELP AND SUPPORT: The female room at Riverside
The plans come after the council was criticised for their removal of rough sleepers at the Ark, under the Mancunian Way, in September.
Services supporting the accommodation are provided by a number of charities and organisations working with the council, as well as Riverside.
Property firm Bruntwood, with partner Time Out Services, has provided free cleaning at both buildings to prepare them for being opened and will continue to regularly clean them throughout the winter.
Time Out will also be offering help into employment, such as training and apprenticeships, to occupants within the buildings.
Ms Watts said: "The number of people who have come together at short notice to make the opening of these buildings a possibility has been overwhelming and Manchester should be proud of the response that has been made by organisations across the city."
Local health services will be offering free health checks and flu jabs to people using the services, and software firm Condeco is providing free software and professional services to enable homeless charities to book people into the buildings.
Lifeshare, a local charity, is also ensuring people will have toiletries, things for breakfast and other essentials via the Christmas boxes they are donating.
A nearby takeaway shop also donated 25 hot curries to the Hulme site.
Cllr Andrews said: "We have spent months working on plans to open up empty buildings to make sure nobody has to sleep rough on the streets this winter.
"We have received a lot of very kind offers to help from organisations across the city and with their help we are now opening the first pair."