Domestic abuse victims who are struggling for help due to cuts in legal aid and social services are being offered a lifeline in the form of a new Manchester initiative.
Meet the Neighbours is the brainchild of family solicitor Laura Hitchen, from WTB Solicitors LLP,who specialises in cases involving domestic violence.
Through her work in the community Ms Hitchen has first-hand experience of the trouble vulnerable people are having due to cuts in legal aid and other services.
The initiative is an attempt to address these concerns and to get Manchester charities and community groups to develop better relationships and work together to meet the needs of the community.
Police and Crime Commissioner Tony Lloyd spoke of his support for the initiative at the launch this week and also his commitment to working with the community to help combat domestic violence.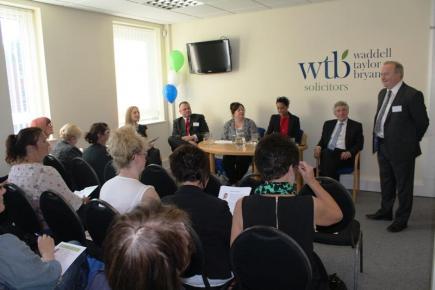 NEIGHBOURLY SUPPORT: Tony Lloyd shows his support at the launch
Longsight Councillor Suzanne Richards, who was Lead Member for Women on Manchester City Council until 2012, explained issues affecting the local community including the impact of domestic abuse.
She said: "In these times of austerity is it more important than ever that we work together and smarter to maximise what we can achieve for vulnerable residents and those in need in our communities.
"Domestic Abuse is not a fringe issue – 20% of all violent crime is domestic abuse, and one in ten of all crimes is a domestic abuse incident.
"These statistics are horrific but research shows that around 50% of incidents go unreported to the police, so in fact we are dealing with just the tip of the iceberg.
"But there are also hidden victims of domestic abuse, over three-quarters of a million children and young people witness domestic abuse each year
"We need to and must do more – but this government is making it harder and harder for us.
"Legal aid reforms have brought in exacting changes in the criteria for domestic abuse victims to qualify for help.
"For example a doctor's letter can now cost around £75 – a prohibitive cost for many victims in our area.
"The changes have left vulnerable women and men with literacy problems attempting to represent themselves through complex legal processes."
Ms Hitchen said: "The response we have had to Meet the Neighbours has been phenomenal; it has obviously addressed a need recognised by professionals working with vulnerable people across Manchester.
"We intend to make it an annual event as part of our ongoing commitment to the community and we can't wait to make next year's event just as successful."
Attendees included representatives from Women's Aid, Shelter, Independent Choices, Manchester MIND, Citizen's Advice Bureaux, Rainbow Haven, M.A.S.H, CAFCASS, Trafford Domestic Abuse Services, the Albert Kennedy Trust, Greater Manchester Immigration Aid Unit, Rape Crisis and South Manchester Law Centre among others.
Picture courtesy of Michael Grimes, with thanks