The blaze that decimated Manchester Dogs' Home killing at least 60 canines has sparked a phenomenal global outpouring of sympathy, with charitable donations nearing £1million.
Alongside worldwide donations, the British public have also actively taken goods and supplies to the charity shop accompanying the home.
Bernie Quinn, the Charity Shop Manageress, was almost in tears as she described the response she has witnessed.
"We've been so lucky; we've been inundated with dog food, toys, blankets – but it's just sad talking about it," she said.
"We're so humbled by what's been going on in the shop, the donators have gone the extra mile; they've been absolutely phenomenal.
"But it's not just local people that have been helping us; donations have been coming in from much further afield too.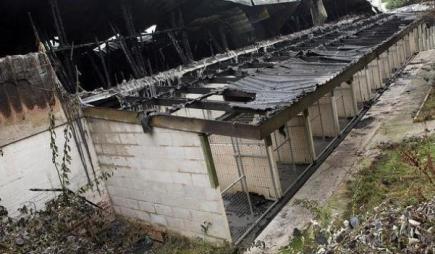 DECIMATED: The blaze caused devatating damage to the dogs' home
"We're a nation of dog lovers so I imagine more people will keep coming in too."
Mary and Chris Scholes, from Whitefield, travelled into Manchester to buy a stuffed animal for their own dog, as they looked to support the cause.
"We've had several dogs from the home and the staff are brilliant. They make sure dogs go to good homes," said Mr Scholes.
His wife added: "Let's hope the donations can build a better future for the dogs' home. Goodness knows what it must have been like. Those poor animals, it doesn't bear thinking about."
Celebrities have also backed the cause on social media today, praising the generosity of donators.
When it comes to animal welfare you are the best. Between you you've raised 100s of £1000s for the devastated dogs home in Manchester.

— Ricky Gervais (@rickygervais) September 12, 2014 
Those poor dogs. Please donate here if you can > https://t.co/VcUJYlN322 #manchesterdogshome

— Piers Morgan (@piersmorgan) September 12, 2014
Shane Pritchard, 58, lives in close proximity to the dogs' home and has suggested doing a charity walk to raise funds for the rebuilding process.
He said: "There was a lot of commotion here last night but dogs are the best thing on earth. Whoever has done this will feel the wrath of God."
To donate to Manchester Dogs' Home, click here.