'Christmas should be about more than survival' is the message Wood Street Mission (WSM) is spreading across Manchester this festive season.
The charity's 2014 Christmas Appeal aims to help more than 4,000 of the city's children and their families to have a merry Christmas.
Last year saw an increase in families seeking assistance with the WSM distributing food hampers and toys to 4,600 children and 2,000 families in the area.
The charity's chief executive Roseanne Sweeney explained the reasons behind the campaign.
She said: "Christmas is a difficult time of year for families living in poverty given the expense and expectations of the season and children in low income households are acutely aware that they can't have the same toys and treats as friends.
"Our campaign's message is that Christmas should be about fun and not just survival for all children living in Manchester and Salford and we are appealing to the public for donations to help give local children a happy Christmas."
The higher cost of living means the charity is expecting even greater numbers of appeals for help this year.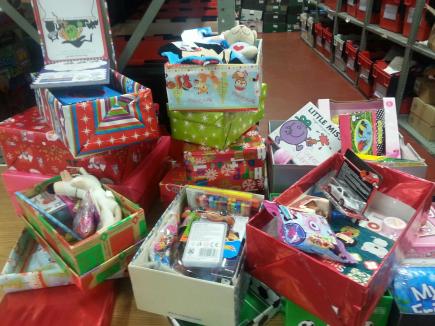 A TIME FOR GIVING: WSM send Xmas presents to struggling families
The families involved in the project receive a food hamper and the children receive new toys and books from the mission.
WSM needs to raise around £20,000 to run the Christmas Appeal as well as many thousands of donations of food, books and toys.
Every year the charity recruits around 200 volunteers to help with the sorting and distribution of the gifts to families in Manchester and Salford during the first three weeks of December.
The main aim of the centre is to 'break the cycle of poverty by engaging children more in their education, in the hope that they will then develop the necessary life skills to prevent them from being the next generation needing our help in the future. '
There are many ways to support the Wood Street Mission this Christmas:
1. Donate £5 by texting ROAR to 70500.
2. Donate a new toy, book or puzzle suitable for a child up to early teens.
3. Donate non-perishable food.
4. Organise a collection, raffle or carol service in your office, community group or church.
The Wood Street Mission was founded in 1869 and helps around 10,000 families living in poverty every year.
The last collection date is the December 12. To book a collection for your donations call 0161 834 3140 or you can drop them off at 26 Wood Street, Manchester M3 3EF.
For more information about Wood Street Mission click here.
Images courtesy of Wood Street Mission with thanks.