Mental health care, services for the homeless and free travel for pupils going to faith and single sex schools could be facing the axe under £59million cuts across Manchester.
Manchester City Council revealed details this morning of options available to address a funding shortfall of £59million citywide.
The amount reflects the deficit the council need to make up in 2015/2016, and warn that the amount may rise by a third to £91million the following year.
Leader of Manchester City Council, Sir Richard Leese, said in a statement this morning that they want to be 'open and transparent about the extremely tough position we are in and some of the stark choices we face'.
"Let us be clear," said Sir Richard. "What we are announcing today are options, not proposals. We will listen carefully to people's views in the months ahead. If they have viable alternative options for cuts we will give them serious consideration because, frankly, we don't much like the options we have."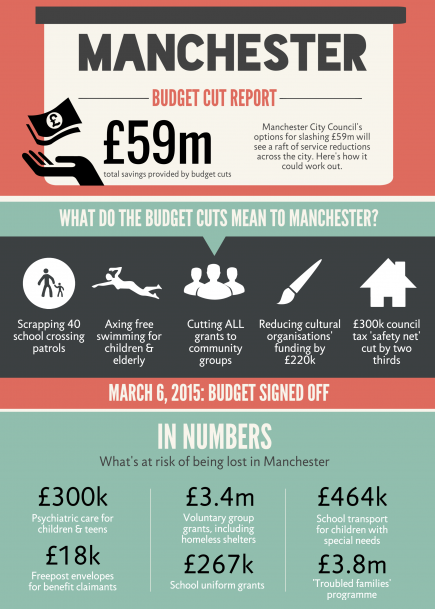 The City Council lashed back at government for handing Manchester 'the biggest percentage cut in government funding of any of England's core cities (the eight largest English cities outside London), the biggest in Greater Manchester and the largest of any Metropolitan area outside London'.
A huge £250million in cuts has already been made by the council between 2011-2015 in response to deep reductions in central government funding.
The cuts come despite Manchester having the fourth highest level of deprivation in the country.
Between 2010/11 and 2015/16, Manchester has experienced the eighth biggest cut per resident to its spending power out of all councils in England. In this period this has reduced by £311.94 per head. By comparison, areas such as Wokingham received a cut of just £0.84 per head while Surrey saw a £10.76 per head increase. 
The council did, however, insist that council tax will remain unaffected. Despite Mancunians already having one of the lowest average bills in the country, the new budget options have been put forward protecting any future rises in council tax.
"We have to set a balanced budget and the severity of the cuts to our central government funding on top of previous cuts make that deeply challenging, and not something that can be achieved painlessly," Sir Richard said.
They highlighted that spending on mental health services could be further reduced, shifting focus onto 'early intervention and supporting people into work' to try and free up cash.
Services tackling homelessness will also be 'streamlined', and specialist support for refugees and asylum seekers is at risk of being replaced with 'a more general service'.
Huge cuts of £5million in education will see the end of discretionary school uniform grants and the reduction of free school travel 'to the minimum required by law'.
They added that pupils whose parents have chosen for them to attend a faith or single sex school rather than their nearest school, or another within walking distance, would no longer be eligible for free travel. 
The council are also debating reductions in short breaks for parents and carers of children with disabilities.
There will also be around 600 job losses at the council, on top of the almost 3,000 lost in the previous four years. It is again aiming to avoid compulsory redundancies by achieving this through a programme of voluntary severance and voluntary early retirement.
Councillor John Flanagan, Executive Member for Finance, said: "Manchester has been disproportionately affected by cuts in local government funding. If we'd had even the average cut over the last four years, we would have been £55million a year better off.
"This loss of funding has seriously hampered our ability to do everything we would like to the level we would like but we are continuing to invest in the future of the city and its residents. 
"We remain determined to do our best for Manchester and produce a budget that continues to support the most vulnerable, that helps more people to become independent and keeps the economy of the city growing. 
"But no one is pretending that there isn't a very difficult balance to strike and we value the views of Manchester people on how we should manage it."
The options will be presented in a series of reports sent to Council scrutiny committees taking place next week. The reports will then be considered at the Executive meeting on Wednesday November 26, ahead of a public consultation being launched on options.
A draft budget will be produced in January next year, with financial decisions being made in March.
Members of the public who want to comment on the options can log on to the council's dedicated Budget webpage, where they can also find out further information. Formal public consultation on options will begin two weeks today. 
Image courtesy of Kays George, with thanks.