Greyhounds are an often misunderstood breed, but now Dogs Trust Manchester is aiming to debunk a few of the common myths by hosting an awareness week.
Visitors to their centre in Denton will be able to find out everything they need to know about greyhounds and get to know a few a little better all of this week.
The Dogs Trust is currently home to five greyhounds, but has taken in 22 – many of which have been ex-racers – since opening last October.
Rehoming centre manager Dawn Bishop said: "Sadly many retired racers end up in rescue centres like ours waiting for a loving home to spend the rest of their lives in."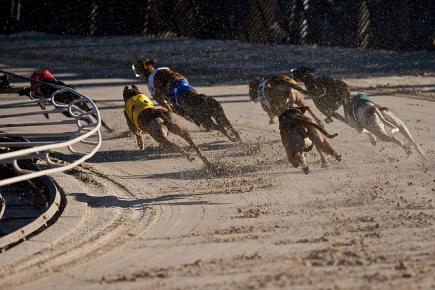 POWERFUL POOCHES: Greyhounds are believed to be the fastest breed on the planet (© Rainer Hungershausen, with thanks)
One stigma that canine recuse team is eager to dispel is the notion that, due to their long history as racing dogs, greyhounds demand an unsustainable level of exercise.
Julia Youd, Regional Press Officer, said: "Greyhounds are often coach potatoes and need little exercise, liking nothing more than cosying up on a comfy bed in a warm home."
These pooches are believed to be the fastest breed on the planet, capable of reaching over 45miles per hour.
Dawn said: "Because people associate them with racing, they assume that they are a dog that needs lots of exercise, that's not the case.
"They are definitely strong and fast but they are surprisingly lazy and very loyal, which is what makes them great pets."
Just one of the gorgeous greyhounds you'll get to meet, or could even take home, during the awareness week is Smiley Sam.
Dawn says: "We have nicknamed him Smiley Sam as he really does have a great smile. He enjoys chasing a ball but generally just loves to be around people.
"He is really chilled in his kennel and can be often found snuggled up on his blankets, so we really hope he catches someone's eye during our special week and finds the home he deserves."
Four-year-old Sam is a toy and food-loving greyhound that would be best suited in an adult-only home where he is the only dog.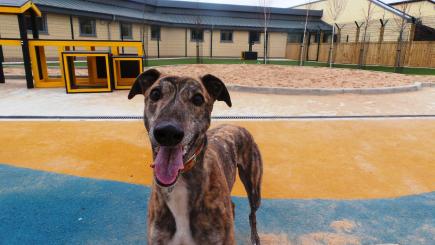 SMILEY SAM: This is just one of the happy hounds looking for a forever home
The greyhound originated in Great Britain and is one of the oldest dog breeds in existence.
They have a long history of use in nobility –  in the Middle Ages only noblemen could own and hunt with a greyhound, and any harm done to the creatures was punishable by death.
Many members of the royal family were known owners of this beautiful breed – including Henry VIII and Queen Victoria – and they are the only dogs mentioned in the Bible.
The Greyhound Awareness Week runs from today until Sunday April 19 and Dogs Trust hope that it will help the greyhounds find forever homes.
Main image and second inset courtesy of Dogs Trust, with thanks.