A double cancer survivor and his three mates took on the European mission of a lifetime to raise £2,500 for the new Bury Cancer Support Centre – in James Bond's mum's £200 bargain banger.
James Mason, 42, joined up with pals Mike Livesey, Dave Knowles and Gareth Nield to take on the James Bond-themed Crumball Rally across France, Switzerland and Italy with scenery straight from one of the films starring the iconic spy.
And the quartet completed the three-day, 2,500-mile in a bright yellow 'Mercedes-Bondz' that used to run screen star Daniel Craig's mother around the continent, following him on his acting escapades.
Gareth, from Bury, told MM: "It was listed as James Bond's mum's car on eBay and it was only down the road in Tottington so we thought 'we better check this out'.
"It seemed a bit strange and we thought 'no one will believe us' but James checked it in the log book and it is real."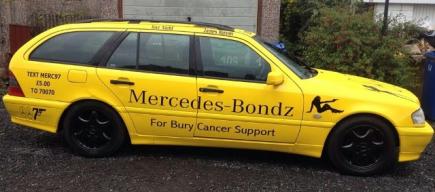 A VIEW TO A THRILL: The European rally is unlikely to be its final assignment
 
The trip was in aid of James' miraculous cancer battle, after he beat testicular cancer aged 30 and and then fought off skin cancer five years ago.
But sadly his son's mother Carol Boldsworth died of breast cancer six years ago, at the age of just 41.
The group have now honoured her memory with the European rally, as well as raised funds for charity Bury Cancer Support's new base, which has been given the green light.
A charity ball, before they swapped tuxedos for driving gloves, also took place with a James Bond-themed Thunder Ball bash held at Elton Vale Sports Club last month.
Fabulous night had by all at our charity Thunderball prior to #thundercrawl #crumballrally pic.twitter.com/igCw0812dI

— James Mason (@james1mason) July 21, 2014
In 2012, James raised £2,000 in a Monaco rally, but Gareth – who described himself as 'no authority on cars' – was a rally rookie and thought it 'seemed like a bit of a laugh'.
And despite claiming the four-piece were not interested in where they placed, they still managed to finish third in the rally out of 90 vehicles.
We made it!!! Thanks to all for supporting us!! pic.twitter.com/zWsnsTMWcI

— Gareth Nield (@gaznield) July 27, 2014
We came 3rd out of 90 cars!!! #crumballrally pic.twitter.com/5bqhaIzcso

— Gareth Nield (@gaznield) July 27, 2014
Gareth and his friends took in the sights in their budget-banger, on their way from Reims in France to Venice at the end of last month, stopping off at Thun in Switzerland and the picturesque Lacarno on the banks of Lake Maggiore.
And they were required to complete a series of challenges on their way, including taking photos and spotting particular vehicles and places, as well as completing the course promptly as racing was outlawed.
After shaking the quartet on its rickety suspension for the cross-continental journey, Gareth revealed that the plucky Merc – which has even been customised with Bond's signature Walther PPK pistol replacing the German marque's three-pointed star on the bonnet – had also stirred them.
And when the time came to carry out the Crumball Rally tradition of scrapping the vehicle, the intrepid four couldn't bring themselves to use their license to kill.
"Some of the lads fell in love with it," said Gareth, 32.
"So we decided to drive all the way back in it. I mean it already had 220,000 miles on it when we got it and we did another 2,500 in it."
Aside from a fuel leak just outside Calais, the two-decade old estate has proven its worth and even that hiccup was fixed with resourcefulness that Q would be proud of – a roll of gaffer tape.
Fuel leak just outside Calais! Sorted with gaffer tape! #crumballrally #thundercrawl pic.twitter.com/OcqpD2nBRL

— Gareth Nield (@gaznield) July 29, 2014
The future of the £200 banger is unclear – but the trip across Europe is unlikely to be its final assignment.
The German vehicle is set to take 'pride of place' at the new cancer centre open day this week, complete with the official Crumball rally banner after organisers let the lads keep it.
And the 'Bondz' rallying days may not be over as talk has even turned to a sequel, but Gareth insists they may have to kit it out with the most essential of James Bond gadgets – the ejector seat.
"I could have done with one after spending five days in a car with three other lads when it got tetchy towards the end," he said.
"But no, seriously, it was a great laugh and there was no bickering at all."
To donate to the appeal, click here or text 'Merc97' to 70070