Labour's Shadow Education Secretary Angela Rayner was re-elected in Ashton-under-Lyne, but saw her majority decrease by 12.3% to 48.1%.
On a disastrous night for Labour nationally, the party held on to the three Tameside seats, but their vote share decreased in all, as the Conservative Party made gains.
Rayner expressed pleasure at her re-election but was evidently disappointed by the party's overall performance.
When asked about the party's future, she refused to comment on whether a new direction was required.
She said: "At the moment I'm reflecting on my result tonight. I'm very pleased that the people of Ashton have re-elected me.
"I don't think it's worth me speculating on what happened nationally, but I'm really upset about what has happened nationally, some of my good friends and colleagues have lost their seats.
"There's still many children in poverty and still many people feeling the effects of austerity and I worry about the future with a majority Conservative government."
When asked about the failings of Labour's campaign, Rayner said: "I think we've got to reflect upon the mood, especially in our northern working-class areas. It's obvious that there's been an issue there.
"We've got to go through that period of reflection as a party."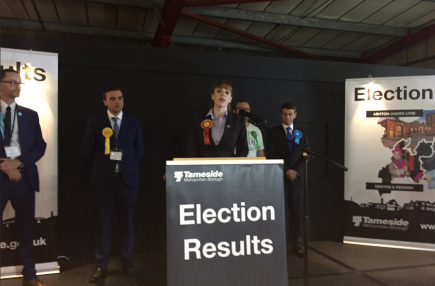 Meanwhile, Conservative candidate Dan Costello, whose campaign centred on Brexit, won 37% of the vote in the constituency – a 5.1% increase for the party.
Following the declaration of results, he Tweeted: "Wasn't meant to be this time, but delighted to reduce the Labour majority to 4,263 (11%). A fantastic result on an amazing night for the Conservatives."
Costello's strong showing and emphasis of his pro-leave message in a town that had voted to leave the European Union by almost 62% in 2016, meant that Brexit Party candidate Derek Brocklehurst failed to make a real impression in the party's first general election as he won 8.2% of the vote to finish third.
"I'm a bit dubious of the Conservative Party to deliver on the message. I wouldn't trust the Conservatives, I don't trust Boris, he seems to swing from one way to another."
Pro-remain parties the Liberal Democrats and the Green Party won 3.6% and 3.1% of the vote respectively.
George Rice, who stood for the Liberal Democrats, expressed pride at his performance.
"I'm really pleased, we've gone up by 2% in our vote share and I think it shows there's a real demand for liberal values in Ashton and I'm really happy with my first time standing for parliament."
He added: "If I'm going to lose to anyone, I'm quite happy to lose to Angela Rayner. I met her at the hustings and she seems genuinely passionate about the issues, we just differ on how to solve them."
The Green Party's Lee Alan Huntbach claimed that was not surprised with the Tameside results, but was vocal in his criticism of the national results.
He said: "A Conservative majority means that we've got to work twice as hard for environmentalism, but we will do – it won't knock us."
"As a Prime Minister he (Johnson) couldn't have come at a worse time, alongside Donald Trump. I'm devastated."
Though Labour held onto Ashton and a key member of the shadow cabinet has been re-elected, few would argue that their performance in Ashton, a historically safe seat, was anything but a disappointment.