Dozens of live chickens were left to strut across the M62 motorway after a lorry carrying thousands of poultry crashed this morning – some getting into motorists' cars.
Six thousand birds in crates were cast across all four lanes on the eastbound carriageway near Eccles Interchange.
Emergency services are currently on the scene to clear the chickens and debris from the motorway.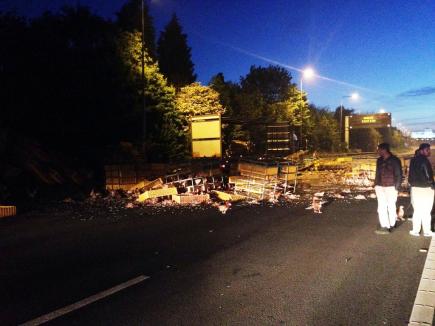 NOT A POULTRY PROBLEM: Chickens run riot on M62 (image courtesy of @IainCPatterson, with thanks)
The eastbound carriageway between junction 11 (Birchwood) and junction 12 was immediately closed at approximately 4.15am.
Motorists are facing long delays on their commute into Manchester and police are advising motorists to avoid the area.
Emergency officers are still collecting up live chickens that have escaped their cages – however some chickens managed to get into motorists' cars.
What happens when chickens cross the motorway? You get two chickens in your car. #chickens #m62 #accident #funny pic.twitter.com/nSHud8PKsK

— Carlos W Romero (@CarlosWRomero) May 14, 2014
#M62 Eastbound CLOSED J11-J12 – http://t.co/S5d1FsMGht – Road expected to reopen from approx 10am. Expect long delays pic.twitter.com/r9OkuBdV6n

— Motorway Cameras (@MotorwayCameras) May 14, 2014
Great..Now there are chickens running about on the M62..Really, can my journeys 2work get any longer or more creative?? What next aliens?? 

— Nikki Sanderson (@NikkiSanderson) May 14, 2014
Some commuters reacted in a light hearted manner after the crash, in which no one was injured. 
So a truck full of chickens has crashed on the M62 Bet that was poultry in motion

— Lawrie Lee (@lawrielee) May 14, 2014
Joke that there's loads of chickens running about the m62 cos a lorry carrying 10,000 of them has over turned hahahah

— Jackkk (@J_TaylorOldham) May 14, 2014
Main image courtesy of @IainCPatterson, with thanks.