The Shadow Secretary of State for Business, Energy and Industrial Strategy has reconfirmed Labour's commitment to repeal the Trade Union Act of 2016 and to set up a new Ministry of Labour.
Rebecca Long-Bailey was speaking on day one of a Labour Party meeting in Stockport on Thursday night, an event organised by Stockport Momentum and the Labour Assembly Against Austerity.
The new Ministry of Labour would be headed by the current shadow Minister for Labour, Laura Peacock. It will have responsibility for enforcing workers' rights, as well as ensuring that trade unions are protected and allowed access to every single workplace.
Ms Long-Bailey emphasised the positive role that trade unions play in economic activity, referencing research that shows those countries with high trade union representation enjoy increased productivity over those like Britain which have low levels.
She said: "Trade union membership is not just because you want to be a member of a trade union, it is to enhance productivity, enhance growth and ensure that prosperity is spread out throughout the workforce."
The MP for Salford and Eccles wants the beneficial role that trade unions play in economic and social life to be taught in schools and is currently in discussions with Angela Raynor, the shadow Secretary of State for Education, on ways of bringing that about.
She said that education was essential in "ensuring that our younger people in particular understand the role of a trade union and the benefits that unions provide."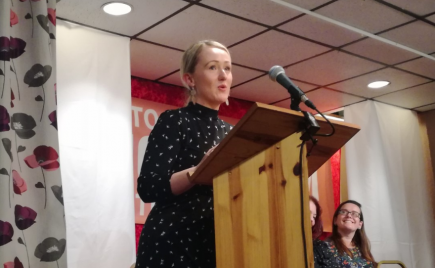 The meeting was part of a series of events that Momentum is holding around the country to re-energise party members and activists after the party's calamitous performance in the European elections.
It was an attempt to move the agenda on from Brexit and reaffirm faith in Labour's policies to address the suffering and inequality caused by almost ten years of Tory imposed austerity.
To highlight that devastation, Paula Barker, Unison's North West regional convenor, pointed to the fact that in 2018 the Trussel Trust distributed some 1.3 million three day emergency food supplies to people in crisis, a 13% increase on the previous year.
She also claimed that women in the most deprived areas have now lost 100 days of life expectancy in the past five years alone.
She said: "Austerity is widening inequality and it is actually no exaggeration to say that it is cutting lives short."
A recent article in the British Medical Journal blames austerity for over 120,000 deaths since 2010.
Sian Errington, from Labour Against Austerity, described austerity as an ideological choice, not an economic necessity and said that "it has been a massive transfer of wealth from the many to the few."
MARGARET THATCHER ON SPEED
For many on the left, austerity is seen as the logical consequence of an economic ideology devised by academics at the Chicago School of Economics and first implemented in Chile after General Pinochet's coup in 1973, before being introduced to Britain by Margaret Thatcher in 1979.
Its main tenets embody full scale privatisation, unfettered and deregulated markets, the erosion of workers' rights and the reduction of the state to the role of market administrator. This has led to both prosperity and control of the economy being concentrated in the hands of the few at the expense of the many.
Many believe that these policies inevitably led to the financial crash of 2008, which Ms Errington claimed provided an opportunity too good to waste "for those who wanted to finish what Thatcher started in shaping our society."
Ms Long-Bailey concurred, adding that what Britain got after the crash was a Tory government that was "like Margaret Thatcher on speed. They are there to finish the job that she started – the dismantling of our welfare state, our public services, our NHS, the privatisation of every single thing that we can see as far as the eye will go."
According to Ms Barker, it is by comparing the UK to the US that it possible to understand what an extreme outlier the UK is with regards to privatisation. She said: "A phenomenal 40% of the total value of assets privatised across the OECD between 1980 and 1996 was actually here in the UK."
She argued that if there was to be a fundamental shift of power, wealth and control in favour of working people, then there must be a fundamental shift in the ownership of the economy. She advocated for the public sector delivery of all public services.
She said: "Public services are owned by us all and what greater form of cooperation could there be for us, the public, to own the means of production or our public services. There is now an opportunity to advance, to role forward the frontiers of democratic control over economic activity."
It is questions of ownership that lie at the heart of Labour's plans to construct a fairer and more equal society.
Referencing Labour's plans for employee ownership schemes, Ms Long-Bailey asserted that if the UK economy was to provide prosperity and guarantee jobs for the next 30 to 40 years, then "we have to have structures where the people doing those jobs get a say in their future. Not only get a say in their future, but get to enjoy the rewards of the prosperity."
She brought the meeting to a close by emphasising that Labour would seek to dramatically increase the size of the co-operative sector and look at models of community wealth building, as well as predicting that Labour's Green Industrial Revolution would lead to jobs and prosperity in Britain's de-industrialised regions.
Main image courtesy of Rebecca Long-Bailey via Twitter, with thanks.