The heartwarming kindness of strangers overwhelmed a Salford mum after she met the 'selfless' woman who saved her teenage daughters' life from the grip of leukaemia.
Joanne Cairns, mum of Charnay, was filled with emotion when she finally came face-to-face with the inspirational bone marrow donor Carol Ward, after she gave 14-year-old Charnay a chance to beat the disease.
Charnay and Joanne, 48, from Acresfield Road, Salford, met life-saving mother-of-two Carol, 49 from York, for the first time earlier this year.
Joanne said: "I cried when I first met Carol – I didn't know what I could say to thank her for saving my daughter's life.
"It was very emotional – people are never normally in a position where they meet someone who has helped them so much and so selflessly."
Charnay was first diagnosed with Leukaemia aged just two-and-a-half months after Joanne discovered her body covered in tiny bruises.
Beautician Joanne said: "I was heartbroken when Charnay was diagnosed – I couldn't believe it.
"It was an extremely difficult time. It is not something you ever want to see your child go through."
But after an intensive two years of grueling chemotherapy, Charnay's leukaemia returned.
Her only chance of survival was a bone marrow transplant – and, tragically, none of her relatives were suitable matches.
Turning to blood cancer charity Anthony Nolan, Charnay's family hoped for a possible match.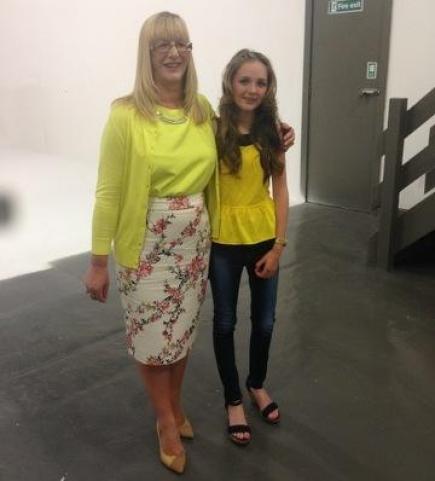 COME TOGETHER: Charnay and Carol meet up
Carol was delighted when she received the news she was a match for a young child – after previously knowing no details about the patient she was helping.
The donor, who runs a working men's club with her husband in York, joined the Anthony Nolan bone marrow register after someone in her local area developing Leukemia.
Upon their first meeting, eight years after the transplant, Joanne showed Carol photos of Charnay when she had been ill.
Carol said: "It was clear that she has been through a huge amount. I am just glad that I was able to help."
Following their first meeting, Carol and Charnay met again on Saturday August 9 to promote an Anthony Nolan campaign called Kindness of Strangers.
The appeal promotes the unselfish act of donating stem cells, with around 1,800 people in the UK needing a bone marrow (or stem cell) transplant each year.
Anthony Nolan, now in its 40th year, was the world's first bone marrow register and has been saving lives matching donors and patients.
Joanne said: "It is fantastic to see that people actually go out of their way to help strangers in the way that Carol did.
"Without her, my daughter would not be here today."
Anthony Nolan are appealing for 'heroes' between 16 and 30 to join the bone marrow register in order to save more lives like that of Charnay's.
To sign up online visit the Anthony Nolan website.