The Jumper Factory starts with an announcement. The six young actors, who have been seated on chairs lined across the stage, bring their legs together and unclench their hands, rise from their chairs, and begin to chant as one.
All aged 18 to 25, they have each been affected by the Youth Criminal Justice System in their own way – an uncle in prison, friends in prison, drugs, expulsion from various state units. But, they say, "this play isn't about us". Tonight, they will be puppets for someone else's voices.
Last year a group of eight inmates from HMP Wandsworth, England's most overcrowded prison, piled together their creativity, their anger and wit, and staged a play to fellow inmates that depicted how they survive a life behind bars when the world outside moves on without them.
Writer and actor Luke Barnes transformed this into The Jumper Factory. Barnes (Rast in Game of Thrones) has cleverly spun their experiences together into a single-act play focused on the gradual spiral into paranoia of a young man struggling to keep hold of himself and his ties with his partner Kai and her son Jay.
Conceived by The Young Vic's Taking Part project and theatre spark Justin Audibert, the 45-minute long play leaves the audience not just empathetic for the young man's story, but also with a deeper understanding of the suffocating prejudices faced by people in prison.
The six young actors, who each stepped forward to tell the story, were refreshingly cast. All completely different ages, skin colours, heights, widths, hair styles, some more softly spoken, some who boomed, and donning casual tracksuits (costume designer Catherine Kodicek kept the outfits subtle but effective), they worked well together to play with the mood on stage.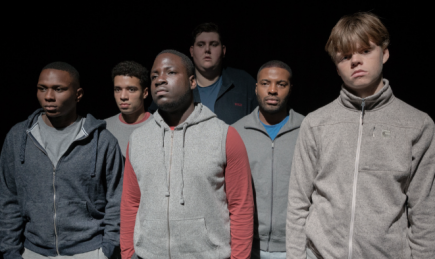 DOWN BUT NOT OUT: The Jumper Factory depicts youths enduring prison life – crucially the message is they will not be defined by their experiences
This speaks a lot for Josh Parr's direction, strong and well thought-through. With an energy and readiness to laugh that was perhaps surprising given the topic, the lads tossed jokes around the stage at each other, congratulating each others' monologues with a back slap, and kept our eyes flicking from one to the other by keeping up almost constant movement.
This was particularly impressive given the minimal set up. The six chairs remained the only prop or form of stage design, and even when one of the lads came centre-stage to be isolated in the box-shaped spotlight and speak alone to the audience, the other five remained alert to his words: smacking their fists and cracking into wide grins, gently ripping him; or slouching back in their chair with darting eyes during the more poignant moments.
Jess Glaisher's light design was crucial here, creating the physical boundaries on stage that brought the prison walls to life, and at times throwing enormous shadows on the black curtain around the stage, creating a sense of unease.
Mike Winship's sound design also cleverly compensated for the lack of props. Eerie electronic sounds flitted in and out, sometimes giving the impression of a dripping tap, at others just heightening the tension in the air.
Raphael Akuwudike must be particularly commended for his performance. He didn't once betray that he was speaking words learnt from a piece of paper, and the two times he stepped forward and took up the storytelling mantle were the two times during the play I was truly immersed (proven by the blank section in my notepad where I stopped scribbling).
His portrayal of the protagonist's snapping point, when his burgeoning drug habit and debt owed to the chilling character known only as 'Skinny Boy' have got too much, was heart-wrenching. It is not surprising to hear that a number of the cast have signed on with agents or renowned theatre schools as a direct result of their involvement in the play.
The ending falls perhaps slightly short because of its cheesy resolution, but gives us a heartwarming message about the possibilities for hope and love, even within the often horrifying reality of prisons.
A quick Google after the event shows where the inspiration might have come from. In June 2017 HMP Wandsworth was stripped of the privilege of calling itself a 'reform prison' because of non-existent contraband checks and allegations of staff corruption.
Crucially though, the final tone we're left with is one which shone throughout the play, in the writing and the actors' energy. These young men may be in prison for the time being, but this is by no means who they are, or who they will become.