A haul of Class A drugs has been seized and a cannabis farm shut down as hundreds of police descended on Salford to eradicate organised crime groups (OCGs) 'poisoning our streets'. 
More than 200 Greater Manchester Police officers executed warrants at 22 addresses across Eccles and Pendleton and made 18 arrests as part of Programme Challenger.
Fifteen men and three women have so far been arrested on suspicion of supplying Class A drugs. They remain in custody for questioning. 
There are more than 160 known OCGs operating in the region, with a cost to the local economy of between £850million and £1.7billion every year.
To put it in perspective, £1billion could pay for 38,644 social care workers, 4,400 libraries or 33,200 nurses.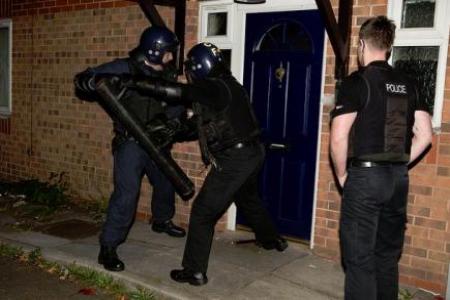 BREAKING AN ENTRY: GMP searching homes in Salford this morning
Superintendent Mark Kenny, of Salford Division, said: "We would not have been able to carry out these warrants had it not been for members of the public coming to us with information and intelligence, and that is very pleasing. 
"These warrants are a result of a sustained and in-depth operation into the supply of Class A drugs not just in Salford, but Greater Manchester as a whole. 
"They have utilised some excellent work by my officers in the gathering of intelligence and information, which has allowed us to seize a significant amount of drugs which would soon have been poisoning our streets. 



"We have also been successful in confiscating a large amount of cash, hitting the dealers where it hurts."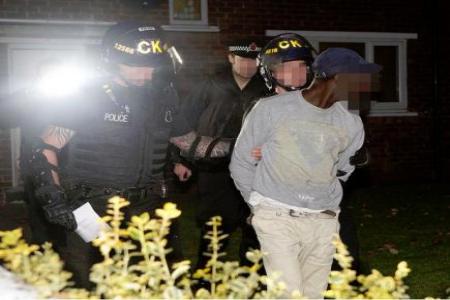 DEALER ARRESTED: The GMP 'hitting the dealers where it hurts'
Despite popular culture, organised crime is not the preserve of the elusive 'Mafioso' or gang members.
From fake handbags and stolen phones right up to drug dealing, human trafficking and illegal immigration, it impacts everyone, but many are not aware of the links and believe that 'it doesn't affect me'.
The GMP believe that by buying a counterfeit watch or stolen mobile phone, you could be indirectly funding OCGs, giving offenders the money to 'rule the community in which they live with an iron fist'.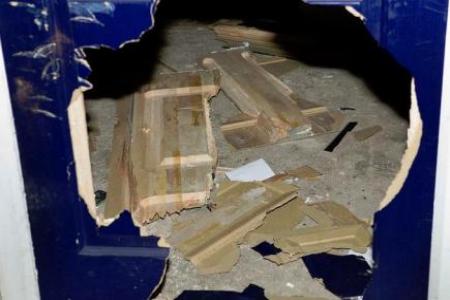 SMASHED DOOR: GMP carry-out their search warrants
SI Kenny added: "Our communities have already shown they are prepared to work with us in the fight against drugs and organised crime.
"And I would like to express my thanks to those who came forward and helped us reduce the amount of dangerous narcotics in their areas. 
"But there is still more to do and, as with any fight against organised crime groups embedded in our communities, we need residents to come to us with information so we can put a stop to this criminality.
"If you see drug dealing taking place in your area, come to us, we can help to put a stop to it and help to make Greater Manchester a safer place to live." 
Anyone with information is asked to call police on 101 or the independent charity Crimestoppers, anonymously, on 0800 555 111.
Images courtesy of Greater Manchester Police, with thanks.