An environmental charity is inviting people to take a walk on Trafford's wild side as part of a new initiative to encourage people to enjoy the benefits of walking. 
Red Rose Forest is the charity behind the initiative, named Active Trafford Greenspace, which aims to help people make the most of the walking routes and trails in the borough's countryside and parks. 
The initiative kicks off this week with a 'mini-beast safari', which invites families – children in particular – to become eagle-eyed bug hunters.
The Community Forest charity, will, over the next year, be organising a number of guided walks and themed events to help people of all ages and abilities to explore Trafford's great outdoors. 
Janie Burrage, Active Trafford Greenspace Officer at Red Rose Forest, said: "Whether you fancy a short stroll or something a little more strenuous there's something for everyone.
"It's the best exercise people can do and it is totally free."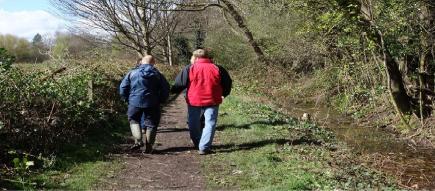 LET'S GET READY TO RAMBLE: People are being encouraged to enjoy the great outdoors
The Mersey Valley Visitor Centre at Sale Water Park is to act as a new walking 'hub' and will be the start point and information source for many guided walks.
The hub will act as a meeting point for guided walks, as well as an information source for tips, advice, and information on interesting wildlife to look out for.
Ms Burrage added: "Trafford has a wealth of beautiful countryside right here on our doorstep.
"Places such as Sale Water Park, Urmston Meadows and Green Hill in Flixton provide a much needed refuge for people from the hustle and bustle of urban life and offer somewhere for people to relax and unwind and get in touch with nature.
"They also provide accessible places to enjoy walking which has been proven to have a range of health and social benefits."
Active Trafford Greenspace will even encourage GPs to prescribe walking activities as a way to treat certain medical ailments, and will hold lunchtime strolls for workers.
Funding for the initiative comes from Transport for Greater Manchester, and will be dedicated to improving footpaths and trails, in addition to mapping new walking routes in the area.
Join the 'mini beast safari' from 10.30am on April 16, starting at the Visitor's Centre at Sale Water Park.
For details contact Janie Burrage on 0161 872 1660 or email [email protected]. 
Look out for other planned walks on the Red Rose Forest website, or follow @traffcountry and @WalkingTrafford for updates.