A new mum from Altrincham died after refusing to have life-saving cancer treatment so that she could give birth to a healthy baby.
Nicola Cockx, 35, was so intent on having a child that she postponed having chemotherapy and a stem cell transplant for fear it would risk the health of her future child.
Instead she fought Multiple Myeloma – a form of bone marrow cancer which affects plasma cells – by using holistic methods of treatment and even completed a one year nutrition course to help with a healthy diet.
But although Mrs Cockx fell pregnant and daughter Harriet was born healthy, the businesswoman suffered a relapse and despite undergoing a bone marrow transplant she died eight months after the birth.
Her family believe had she undergone chemotherapy she would have survived – but would never have had the child she longed for.
The tragedy occurred after Mrs Cockx, from Little Bollington, near Altrincham, Cheshire, who was described as a 'beautiful, courageous and determined individual', had fought a four-year battle against the illness.
She had begun limping in July 2008 and three months later as she was about to see an orthopaedic specialist she slipped and broke her femur whilst on a business trip in Germany.
Mrs Cockx's husband Rudy, 39, an IT consultant, told a Manchester inquest:  "Following the leg break in the hip area the multiple myeloma was diagnosed. It was extremely stressful."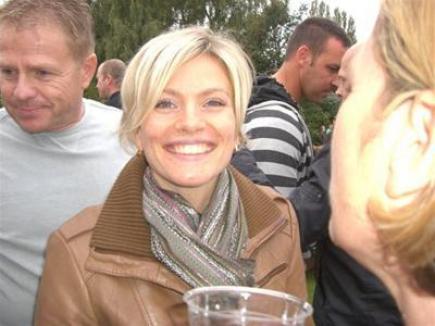 'COURAGEOUS': Nicola Cockx, 35, was so intent on having a child that she postponed having chemotherapy
The condition affects places in the body where there is bone marrow such as the spine, hips, skull and pelvis.
Mr Cockx said Nicola was initially treated with radiotherapy in the area of her hip where the cancer had struck but despite this she sought alternative medication and therapy.
He added: "She liked to explore different ways to cope with it.
"She was very in tune with her own body and wanted to help herself as much as possible – she researched it thoroughly."
Mrs Cockx, who had previously studied sport science at Stockport College and continued to work during her treatment, was so serious about treating her body with natural methods that she completed one year at Manchester University studying nutrition.
She also talked of seeking advice from celebirty chef Jamie Oliver about the healthiest foods which could keep cancer in check.
Eventually she fell pregnant and in June 2012, Mrs Cockx had an emergency C-section to give birth to Harriet but tests already showed the cancer was much stronger than before.
Mr Cockx said: "There was very little we could in terms of treatment when she was pregnant because certain medication could hurt the baby. 
"We didn't really know what was going on for 9 months and directly after the birth of our baby there were some complications and straight away a doctor came in to see her and said Nicola was in a pretty bad way."
Dr Jim Cavet consultant haematologist at Christie Hospital told the inquest of the aggressive nature of Nicola's form of cancer and her overriding desire to prolong 'toxic' treatment so that she could have a baby.
He said: "In 2010 she had deferred treatment as long as she could but it was clear that the lump in her spine threatened her spinal cord.
"She did not want to have chemotherapy so we explained that we could put her on steroids but her real priority was preserving her fertility as much as possible."
Dr Cavet said despite the alternative not considered as long-lasting as a strong dose of chemotherapy, her inherently fit and young body fought the cancer off and she was in remission.
She even considered an autologous stem cell transplant – where your own stem cells are removed and blasted with chemotherapy – but backed out last minute for fear the chemo toxins would affect her fertility.
In 2011, Dr Cavet met with his patient to discuss her treatment plan throughout her pregnancy but by 2012 and the birth of her daughter the myeloma had relapsed.
He said: "Chemotherapy is not a good idea in pregnancy and steroids were the one thing we could give her.
"I didn't hear from her for three months out of the pregnancy and then out of the blue I heard about her emergency caesarean and so I went to the hospital.
"She had just given birth so she probably didn't want to see me, her haematologist."
He added: "At that stage she was really quite unwell.
"Her calcium levels were really high and she had bony lumps on her head and her back.
"By now her disease had built up quite a considerable burden.
Regardless of her own pain, the brave mother put her new born daughter's health first and refused to have any chemotherapy even at that stage.
The myeloma cells divided and expanded by this time within the bone marrow, causing fractures and as a result Nicola experienced rib fractures during her fight.
Only weeks away from death, Nicola had further chemotherapy and a full donor transplant after the birth of her daughter.
Dr Cavet said: "If it wasn't for this she would have only had month or so to live.
"Only because she was so young and fit did she get to the point of delivering the baby."
The transplant initially worked but Mrs Cockx started to experience tremors and fevers which were common side-affects after such a procedure and she was referred to Salford Hospital. 
She was discharged on February 22 2013 but deteriorated over the weekend and died four days later.
A pathologist revealed that she died from sepsis and hypersensitivity myocarditis which was a drug-related inflammation of the heart.
Dr Leena Joseph told the inquest that Nicola died from an 'allergy' in the heart caused by one of the necessary medical treatments she was on – and speculated that it could have been the hostile donor cells.
Recording a narrative verdict, assistant coroner Sara Lewis, said: "Nicola's main concern was her fertility and the she should have a child and of course she did in 2012.
"Clearly it is very tragic that the stem cell transplant could not provide a longer remission for her.
"The myocarditis developed because it was reacting to some treatment that Nicola has had but because of the way it presents it can be very delayed.
"But she died as a result of reaction arising out of medical treatment.
"All of the treatments she had under Dr Cavet were necessary because she had a disease that was developing and progressing. Without the treatment the prognosis would have been really poor."
The family are now raising money for more research into the illness and Mrs Cockx's mother, Patricia Flowers, said on a Just Giving page: "Nicola's determination to find a way to fight this horrible disease by natural methods was inspirational.
"Her end goal was to survive and have a family. That was all she wanted.
"Very tragically in February 2013, she lost her battle as a result of infection. Harriet was 8 months old, Nicola was 35."
She added: "My beautiful Nicola was a magnet. She lit up a room when she walked in and wore a smile even when she felt unwell. She was an amazing inspiration and I feel immensely proud of her.
"Nicola gifted her beautiful little daughter to her wonderful husband Rudy and all of us as a family.
"It is very important that we continue to raise money and awareness about a disease that gets little attention.
"I want Harriet to know how wonderful her mummy was and that the value of her life will never fade."
To donate please visit: https://www.justgiving.com/PatFlowers/
Story via Cavendish Press.