Two Salford cyclists have used pedal power to raise more than six hundred pounds for a Manchester cancer charity.
Andrew and Darren, members of the Emmaus Salford community at Pendleton, completed a gruelling 62-mile sponsored ride on 10 July.
They swapped Pendleton for the Promenade as they took part in The Christie annual Manchester to Blackpool bike ride.
Both formerly homeless, Andrew and Darren are now supported by Emmaus Salford at Pendleton.
The charity provides its companions – the term the residents use for each other – with a stable home, work, training and individual support for as long as they need it.
The concept of solidarity – helping others in greater need – is central to the Emmaus approach to life and helped motivate Andrew and Darren to form a wheelie great team. 
The money they have raised will go towards cancer research, education, care and treatment.
Challenge
Andrew admitted: "It was a real challenge due to the heat and the fact I was on a heavy mountain bike.
"The event was very good and I want to do it again next year – on a racing bike or something a bit lighter!"
Darren said: "It was tiring but very good to do the 62 miles for a good cause.
"The roads were really nice to ride through and the stewards along the route were excellent."
Emotional
They were joined on their adventure by Jackie Smith, Emmaus Salford's business development manager.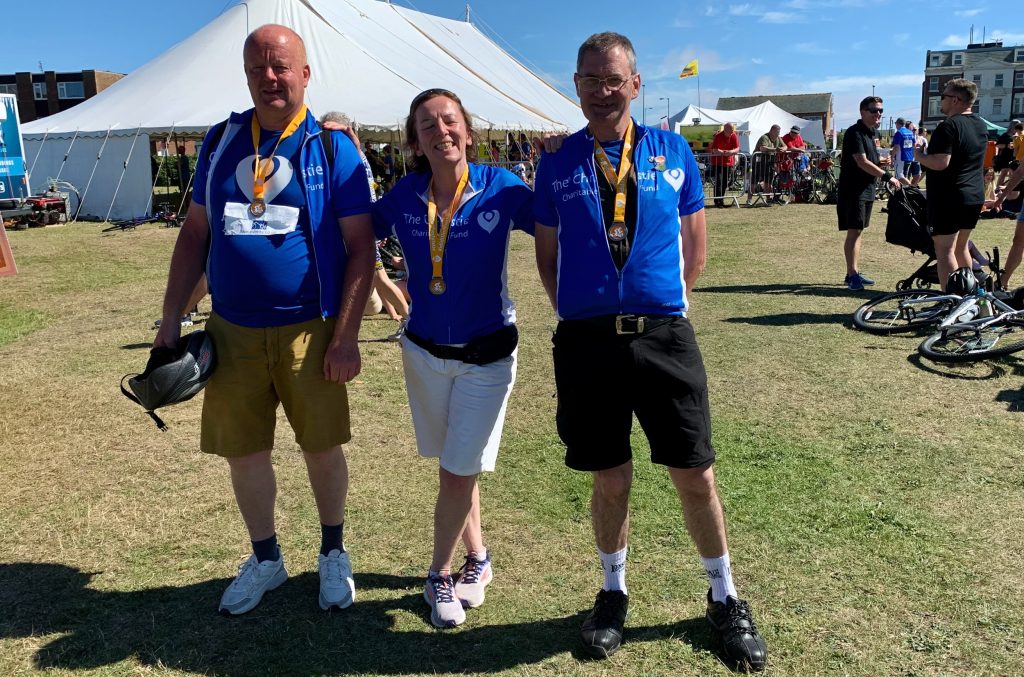 Jackie revealed: "A charity bike ride is something I've always wanted to do and the day was a brilliant experience.
"I am so proud of Andrew and Darren for their dedication to train and then complete the 62 miles."
And Darren thanked Jackie for her support, adding: "It felt emotional when I crossed the finish line." 
The three each got a finisher's medal before resting and enjoying entertainment including a display by RAF aerobatics team, The Red Arrows.
And they thanked all their friends and helpers who supported them in their fund-raising efforts.

If you feel inspired to make a donation after reading their story, please visit Andrew, Darren and Jackie's fundraising page for The Christie.